School-wide drug abuse assembly scheduled for next week
Hang on for a minute...we're trying to find some more stories you might like.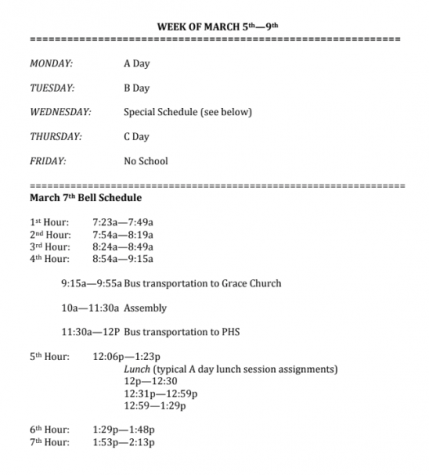 The Maryland Heights Police Department is sponsoring an all-school assembly from 9:15 a.m. to noon on March 7 at Grace Church. The event will feature guest speaker Chris Herren as a way to address the dangers of substance abuse.
Officer Mark Storer is a School Resource Officer at the high school and is a member of the Maryland Heights Police Department. He said this assembly will provide a strong message about a problem on the rise.
"This is an important topic to be discussed since we have seen an increase in the number of calls regarding overdoses in the community."
Each summer, Pattonville's SRO officers Mike Mooney and Mark Storer hit the streets and answer calls.
"The last call that I handled this summer was a kid who had overdosed in his bathroom," Storer said. "We see it, and it's starting to happen more and more often."
The assembly will feature speaker Chris Herren who will share his story regarding his basketball dream coming to a harsh end after substance abuse overcame him.
There will be a special schedule in place for the week and for Wednesday, March 7.
In order to accommodate all students attending this assembly, students will be transported to Grace Church by bus after 4th hour and will return to school in time for lunches. All classes will be adjusted in duration to fit the schedule.
Week of March 5-9
MONDAY: A Day
TUESDAY: B Day
WEDNESDAY: Special Schedule (see below)
THURSDAY: C Day
FRIDAY: No School (High school parent/teacher conferences on Wednesday/Thursday nights)
March 7 Bell Schedule
1st Hour: 7:23a—7:49a
2nd Hour: 7:54a—8:19a
3rd Hour: 8:24a—8:49a
4th Hour: 8:54a—9:15a

9:15a—9:55a Bus transportation to Grace Church
10a—11:30a Assembly
11:30a—12P Bus transportation to PHS

5th Hour: 12:06p—1:23p

Lunch (typical A day lunch session assignments)

1st lunch: 12p—12:30
2nd lunch: 12:31p—12:59p
3rd lunch: 12:59—1:29p

6th Hour: 1:29p—1:48p
7th Hour: 1:53p—2:13p