Q&A with varsity water polo player Austin Brower
Hang on for a minute...we're trying to find some more stories you might like.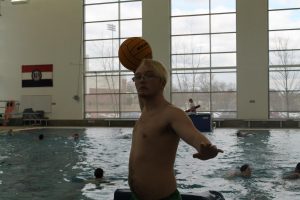 Two weeks ago marked the start of practice for the Pattonville water polo team and for junior Austin Brower.
He is a two-sport athlete at Pattonville participating in the boys' swimming team during the fall and playing water polo in the spring. Brower has been swimming since his freshman year and playing water polo since his sophomore year.
Q: What made you start swimming?
A: "Well, I started swimming because I lost interest in football. It was something that I'd never done before, so I just kind of dove in feet first."
Q: Was that the same way with water polo?
A: "I didn't really have interest in any other spring sports. I was already swimming so I figured I would try it out."
Q: How different is this year than last year to you for water polo?
A: "The seniors leaving is definitely weird, but I've adjusted to it. It feels much different because it's a whole new crowd of people and I've become more comfortable with the sport."
Q: How are you feeling going into the water polo season this year?
A: "I felt pretty confident going into the season. And the confidence I felt is being reassured by the coaches, so I think this is going to be a good season for the team and I see great improvement."
Q: What are you most looking forward to this water polo season?
A: "I'm looking forward to more self-improvement, because I've got plenty to improve on. Also, I'm looking forward to the overall team improving also."
Q: Who is your role model and why?
A: "[Pattonville alum] Xan Adams. I think about how good Xan was at the sport and I try to remember what he did in each game, even though nobody is close to his level of skill."