Peters wrote a story and will be featured during Writers Week
Hang on for a minute...we're trying to find some more stories you might like.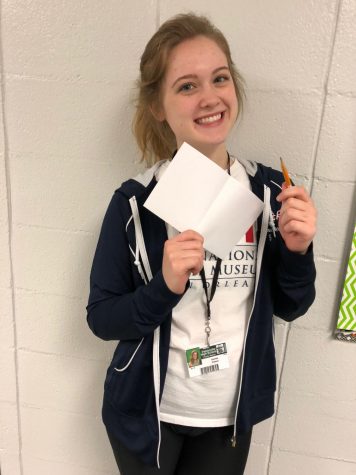 Writers Week will run March 19-23 in the auditorium and current students are involved in the line-up of presenters in addition to faculty, administrators, and professional writers and performers.
A few English teachers had their students write a short story for extra credit during the Writers Week application process and many students including Keeley Peters wrote one.
"I did Writers Week because we were offered 10 extra credit points in Mr. James Frazier's class," she said.
Speakers are scheduled for every hour of the day in the auditorium for the entire week. Some sessions are reserved for student writers. Peters was selected to perform her piece on Friday during 2nd hour.
Some teachers had to push students to get involved with it, but others, like Peters, were willing to get involved and get the chance to speak in front of many people.
"Mr. Frazier said I was very outgoing and asked if I wanted to speak about my story."
It is the inaugural year for Pattonville's Writers Week which made it a challenge for Peters to come up with a story to write and to speak about in front of other students and teachers.
"I'm going to read a poem that I wrote about the lip sync battle that I was in during Homecoming week," she said. "I'm also reading a short story that I wrote."
She said she is very nervous for the event.
"I do not like public speaking," Peters said. "On the other hand, I am excited to be introducing a famous person on Monday."
Writers Week kicks off on Monday, March 19. Teachers are encouraged to sign-up in the English Writing Center and bring their classes to the sessions.