Assistant principal Ms. Odetta Smith presents during Writers Week
Hang on for a minute...we're trying to find some more stories you might like.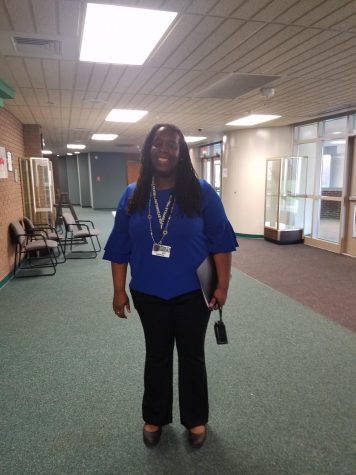 Many professional writers were invited to host sessions during Writers Week at Pattonville High School. Some sessions were reserved for PHS students and staff.
Assistant principal Ms. Odetta Smith walked on to the stage Wednesday morning to present a piece of writing titled "The Importance of Being Earnest."
She said it was about a wolf hunting the three little pigs. In her story, there is a drought in the world they all live in which is why the wolf is hunting them in the first place.
"The title of my piece comes from a play from Oscar Wilde, and my main antagonist's name is Earnest."
When asked why she decided to present that intriguing piece in her own way, she happily responded that she decided to read it because she felt it was appropriate for the audience.
"It's something that I enjoyed writing and thinking about and it was the one piece that I felt was complete."
The audience seemed very pleased with her story, and she did not expect that type of reaction.
"I just like reading and I enjoy reading things out loud," she said. "It was hard for me to tell the audience reaction because when you're on stage reading you have a bright light in your face and it's hard to see the faces in the crowd. However, my goal was that people would enjoy listening to it."
Smith said she would like to perform another short story for a future Writers Week.
"Absolutely," she said. "I think it would be good to see more teachers share their own writing with students during Writers Week whether it's nonfiction or poetry because I think it's good for their students to know that they have other interests outside of their career."