Senior couple both nominated for Prom Court
Hang on for a minute...we're trying to find some more stories you might like.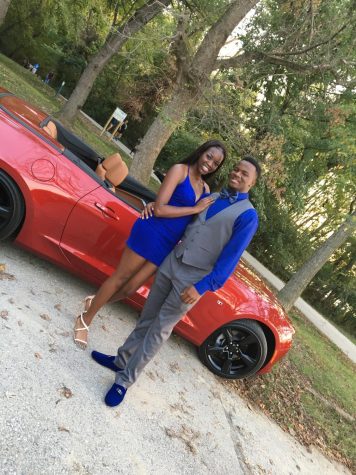 It's every girl's dream to win Prom Queen, especially if she's alongside her King.
Senior Kelsey Van Hook and senior Dakari Streeter are dating and are both nominated for Court for Pattonville's 2018 Prom.
"I was shocked to see my name on the list," Van Hook said. "I've never been nominated for any court so I'm excited."
Streeter was just as shocked.
"I didn't know that I was nominated until after people told me that I was on the list," he said.
Being nominated for Prom Court is the next step to becoming the King and Queen. Students will vote for their choice on the Moodle closer to the date of Prom which is on May 4 this year.
"I will more than likely be surprised to win," Van Hook said. "Being Prom Queen would make my senior year complete, but if not, I'll be excited for whoever wins."
Attending their last prom together will be a night to remember, especially if the couple wins Prom King and Queen.
"I'm happy to be attending my last prom with a date since I didn't have one last year," Van Hook said. "Although prom can be stressful, we've planned out everything pretty well. We're just waiting for everything to come together."
For Streeter, this will be his first time attending the dance.
"Last year I didn't want to go because it was too much money and I wanted senior prom to be more meaningful," he said. "Since this is my first and last time attending prom, I'm very excited and definitely going all out."
With Pattonville Prom just about a week away, shopping can get a little hectic especially with planning colors and what to wear.
"It took me forever to find a dress and color," Van Hook said. "I just picked up my dress a couple of weeks ago and Dakari wasn't really happy with the amount of time it took, but for the most part, Prom shopping is done for me."
Girls can be indecisive sometimes about picking the perfect outfit, but boys can have a tough time too.
"Kelsey took forever deciding what she wanted to wear, but I recently ordered my tux a few days ago and it did not take me a million years to choose," Streeter said. "All I have to do now is find the right shoes."