Mr. Scott Fader is this week's Pirate Code Staff Winner
Hang on for a minute...we're trying to find some more stories you might like.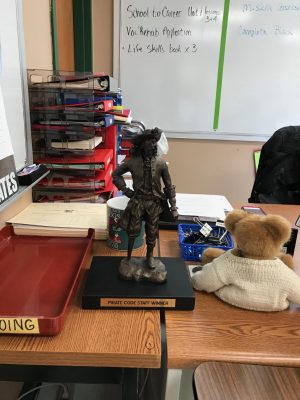 As another week comes around, another Pirate Code Staff winner is chosen. For the week of May 7- 11, art teacher Mr. Scott Fader is the Pirate Code Staff winner of the week.
Fader was glad after receiving the Pirate Code award.
"It's always good to pass on a little bit of positive encouragement," Fader said. "It is difficult to always be thinking of acknowledging students' hard work because there are thousands of people to give them to, along with thousands of other things to do."
Junior Karlton McGee is this week's Pirate Code Student Winner.
"Karlton on a regular basis takes all of the chairs down. I never ask him to, he just always does it," Fader said.
Every week, a different Pirate Code Staff Member of the Week will be selected from Pirate Code tickets that students have turned in.
Remember the Pirate Code. Be Respectful. Be Responsible. Be Involved.