Pirates take tough loss to Lindbergh on Senior Night
Hang on for a minute...we're trying to find some more stories you might like.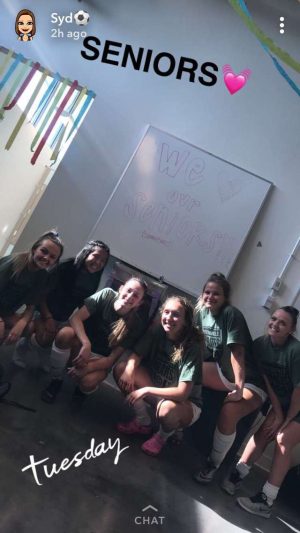 The red-hot girls' soccer team came into its Senior Night guns blazing. The team had knocked off the former No. 1 Webster Groves Statesmen 1-0 which was not only an upset, but a crucial win as far as clinching the district goes.
However, the final score of the game against Lindbergh saw the Pirates (17-4) fall 2-1
The lone goal by the Pirates was scored by junior Kendall Battle who is having an amazing season on the offensive end of the field.
Lindbergh scored an early goal and Pattonville came back with the equalizer in the middle of the game. The teams held their own for most of the game but the Flyers scored the game-winning goal with about 6 minutes of play left.
Senior defender Kat Stroot said finishing was an issue for the Pirates in this game.
"We were moving the ball around really well in the second half, and we should have scored more than one goal."
The Pirates could not capitalize on their opportunities.
"Their goalie was pretty good and we just couldn't put the ball in the net," Stroot said. "We dominated the second half overal, and with how we played, we should have won this game."
This game was definitely a heartbreaker for the six senior girls on the team but they hope to finish strong in the final regular season game against Fort Zumwalt South. The Bulldogs have had a pretty good season so this game should be a big test for the Pirates but they hope to finish strong so they can have a higher seeding in the district tournament.
The playoff seeding is actually a little strange because Pattonville should be the No. 1 seed in their district, but coaches at other schools in the district had a deciding factor in the seeding.
By rights, Pattonville should have the rights to the top seed but the coaches at Francis Howell North and Francis Howell Central somehow negotiated so they would have a better shot at sectionals. As a result of this decision, Pattonville was handed the No. 2 seed in the district tournament even though they hold the best record in the district.
Pattonville had some bad luck as far as district seeding goes but they will still play less talented teams with lower records in the tournament giving them a better chance of advancing. There is nothing to worry about, this Pattonville team is going to do damage in the tournament and they are still one of the most talented teams in the St. Louis area.