VIDEO Top 10 seniors of Class of 2018 announced at Spring Assembly
Hang on for a minute...we're trying to find some more stories you might like.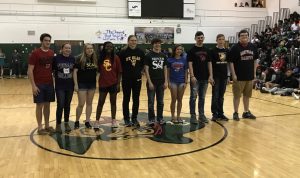 On May 10, Pattonville students took a break from finals to attend the Spring Assembly held in the gym. The purpose of the assembly was to announce academic and athletic triumphs, recognize Pirate Code winners and to have a special check presentation to Make-A-Wish for the #RallyForRyleigh fundraiser.
Clubs and sports like Robotics, Drill Team, and track and field were recognized for their achievements. For example, the boys' track and field team won the Conference championship for the first time since 1999.
Student Council members also presented a check for $5,100 to Make-A-Wish Missouri. This was a year-long fundraising effort by all of the schools in the entire district to help pay for Ryleigh's trip to Disney World. 
The main event though was announcing the Top 10 seniors who had GPAs between 4.2 and 4.65.
Ranked 10th in the senior class, Sam Risenhoover plans to major in actuarial science at Maryville University.
Ranked 9th in the senior class, Patrick Hachmeister is heading to West Point, New York, to attend the United States Military Academy at West Point and plans to major in military history.
Ranked 8th in the Class of 2018, Bobby Bailey plans to major in biology with a focus on pre-medicine while playing football at Rhodes College in Memphis, Tennessee.
Ranked 7th, Katie Basta is heading to Lawrence, Kansas, to attend KU and major in interior architecture.
Ranked 6th in the senior class, Michael Pieper plans on majoring in computer science and applied physics while attending Missouri University of Science and Technology in Rolla, Missouri.
Ranked 5th in the class of 2018, Aaron Hautekeete will be heading to Northfield, Minnesota, to St. Olaf College to major in mathematics, physics, or chemistry.
This year, two students tied for 3rd in the senior class. 
Ranked 3rd, Lydia Young plans to major in human biology and will travel to Los Angeles to study at the University of Southern California.
Also ranked 3rd, Grace Skelton is heading to Savannah, Georgia, to major in graphic design at the Savannah College of Art and Design.
Ranked 2nd in the class of 2018, Sarah Baker will attend Truman State University in Kirksville to major in biology with an emphasis on pre-med.
And the No. 1-ranked senior Aaron Garner will be traveling to Oxford, Ohio, to attend Miami University. He plans to major in vocal performance and economics.