The seniors are 'Picture Perfect'
Hang on for a minute...we're trying to find some more stories you might like.
The entire Class of 2019 reported to the main gym to take a panoramic picture for the yearbook, personal keepings and for the wall in the high school. Order forms were sent out last week during Homeroom with prices ranging from $18 to $30.
Senior Nathan Schiermeyer said taking the photo was an emotional experience.
"Just sitting next to some of the people you've known for about the first 15 years of your life was a weird but great feeling."
With the $30 offer, seniors will get a 10×24 Superpan picture and a 5×12 mini-pan. This will allow them to put one on their wall and keep the other one in a scrapbook.
Other offers provide a 10×24 Superpan with a protective lamination for $28 and an unprotected option of the 10×24 Superpan for $22. The cheapest option is an $18 5×12 mini-group panoramic photo.
If anyone wants to purchase a picture, they can visit the Wagner Portrait Group website and buy one online. The password to access the ordering site is PIRATES.
All students were encouraged to wear their Pattonville senior hoodies that were sold earlier in the year or other uniforms – like cheerleading and drill team – for the photo.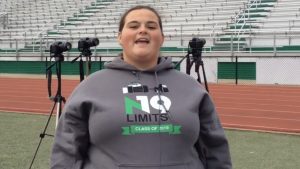 This year's design of the senior hoodie has an outline of Pattonville High School with "No Limits" in the middle. The "19" is designed to look like the "No" in "No Limits." Also, each hoodie has every senior's name on it in alphabetical order on the back.
These were offered by the school for $25. There is still a limited number of hoodies available to purchase.