Max Cases protects electronics from breaking, displayed products at #METC19
Hang on for a minute...we're trying to find some more stories you might like.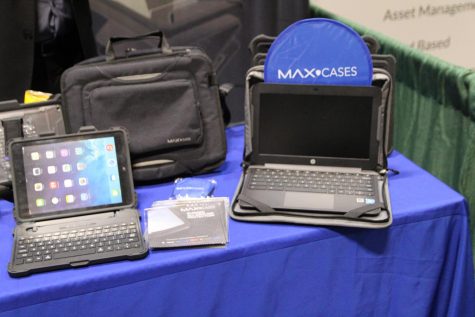 At the METC Conference held in St. Charles, Missouri, from Feb. 11-13, more than 50 different vendors were showcasing their products in the Exhibit Hall.
One booth featured products that are useful to all schools that provide the 1-to-1 device program.
Territory manager Ryan Casebolt of Max Cases explained how his products help prevent computers and tablets from breaking.
Max Cases is a company that designs computer, laptop, and tablet cases that can protect and secure devices and their screens from taking any damage at all.
Casebolt explains that before the Max Cases company went into market, every product they made went through a series of drop tests and screen protection to insure real-life security with their products that are similar to intensive daily use.
Another product made by Max Cases that prevents screen damage on tablets and computers is a carbon fiber plastic that is used to protect phone screens from damage. Casebolt said the company calls that product Battle Glass.
Along with the glass, a blue screen protector can be used for private uses which prevents anyone from seeing your screen from far away.
Max Cases computer and tablet cases also come in many forms that can also make carrying your electronics easier like as a backpack, a shoulder bag, or simple cases that make carrying other devices inside another bag more secure and knowing that they will not be crushed.
Max Cases has a way to protect devices of any brand computer or tablet you have. Max Cases company makes computer and tablet cases for all brands like Microsoft, Acer, Apple, Samsung, and Dell and had many of these products on display in the METC Exhibit Hall.
If you're interested, go to the Max Cases website to learn more.