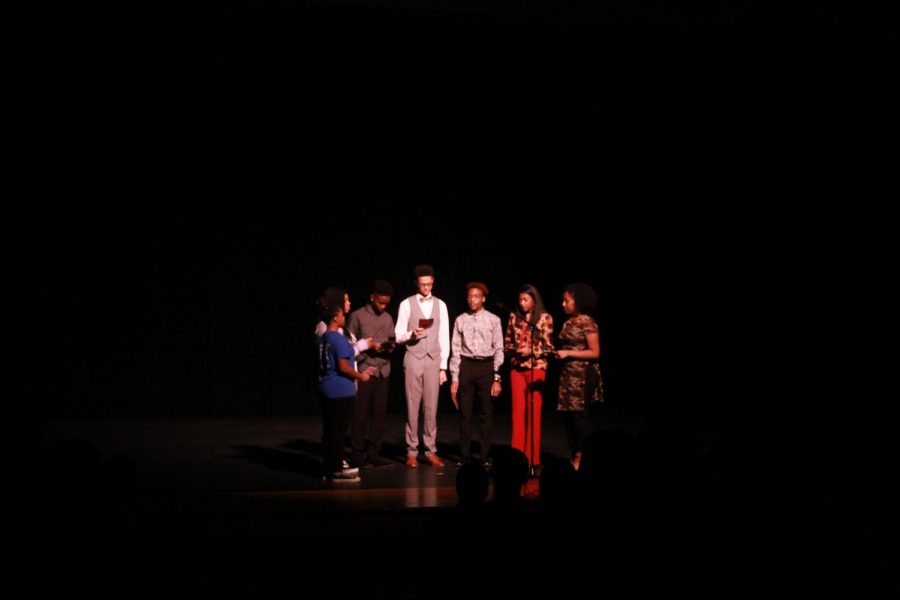 The African American Achievers Society performed their 3rd Annual Black History Performance on Feb. 20. This year's theme was "Triple A Awards" giving awards to students and faculty who embody black excellence.
Coach Steve Smith was presented with the Lifetime Achievement Award and senior Aric Hamilton won the Gadson Leadership Award.
The evening also showcased special guests and talents throughout the night while rewarding excellence.
Special guests included Congressman Lacy Clay, St. Louis County Prosecuting Attorney Wesley Bell, comedian Nick Nichols and the Normandy High School band.
The program began with the Triple A choir singing the Black National Anthem. Junior Kayla Simpson performed a praise dance that showed emotion and moved the audience, and then other students presented like senior Lala Young who did a hip hop medley performance that had the crowd cheering her on and hollering. Also, the Triple A dance team performed its annual routine to a medley of songs.
Other highlights of the night included comedian Nick Nichols who came to the event and performed a stand-up show about what it means to be black in America, and Congressman Lacy Clay and St. Louis County Prosecuting Attorney Wesley Bell made appearances and spoke about Black History in America and excellence.
The Normandy band also performed on stage and played songs like Uptown Funk and Finesse to an excited crowd.
The Triple A fashion show was an event within itself. Various students showcased local black designers on the runway.
Sophomore Jade Boyd played the violin to a medley of songs like Happy by Pharrell. Her performance was exciting and fun, bringing lots of energy to the audience.
The show closed with another special guest and 2018 Pattonville alum Josh Royal who performed a song to end the night.