High school band returns from competition in New Orleans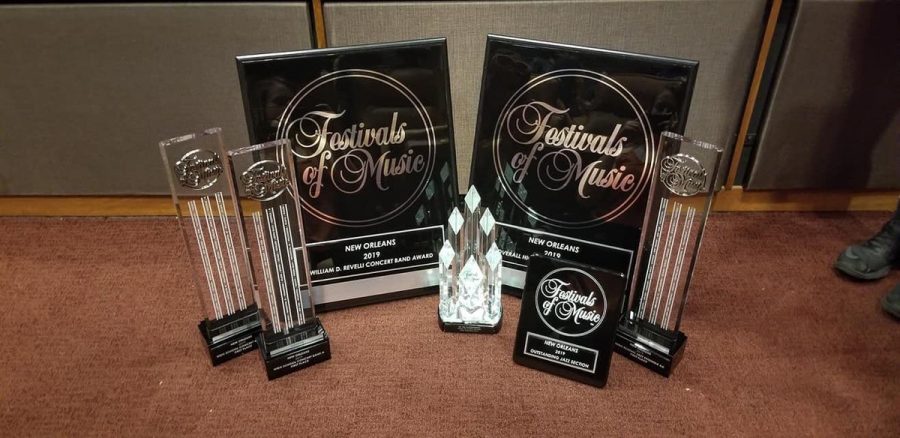 The Pattonville High School bands headed south to the Bayou to compete in the Festivals of Music in New Orleans, Louisiana, and won several awards.
After spending 6 hours at the Festivals site, the four groups (Symphonic Band, Wind Ensemble, Jazz Band, and Jazz Ensemble) all earned a Superior rating which is the highest possible achievement. 
Overall, the bands earned four Superior ratings and awards for being the Outstanding Jazz Ensemble, the Outstanding Wind Ensemble, the Outstanding Section presented to the Jazz Ensemble rhythm section, and Outstanding Jazz Soloist to Jazz Ensemble trombonist Chad Jones. In addition to all of that, Pattonville was presented the Espirit de Corps Award given to the school that had the most professional sounding group, and most well-behaved and most respectful students.
Even though the band was in the city for a competition, they also enjoyed their time in the Big Easy as tourists going to places such as Bourbon Street, a swamp tour, the National World War II Museum, and even the famous Cafe Du Monde, which is famous for their coffee and funnel cake-like dessert, the beignet.
By the time it was Sunday and the high school had arrived to their competition, they had realized that they were the only high school in the event and that they would be competing against middle school competition. Pattonville cleaned up in the competition getting a Superior rating for all four of the bands at the high school.
Senior trombone player Logan Harder would be attending his very last band trip with the school and Harder had an overall great experience on his final trip.
"My favorite part of the trip was the World War II Museum and just learning about the different battles and information," he said. "I also really enjoyed the movie that they showed as well."
Harder also elaborated on his experience at the competition.
"I think the band was really pleased with the results from our competition because the judges were tough and we were all very pleased to hear that we had done as well as we did."