Photo of the Day 10/16
PattonvilleTODAY staff
October 16, 2012
Hang on for a minute...we're trying to find some more stories you might like.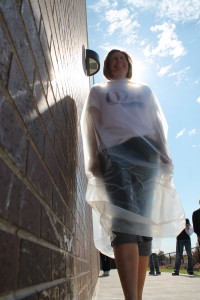 You might call it an "egg-cellent" learning opportunity.
The physics classes at Pattonville High School did the Revenge Lab every hour on Tuesday, Oct. 16, at the north end of the football stadium.
The purpose of this lab according to Ms. Erin Mulanax is to calculate when to release an egg from the top of the stadium so it hits the physics teacher on the head as she walks at a constant speed at the bottom of the stadium.
The students will use their free fall & projectile motion knowledge that they have been studying in this unit to figure this out.