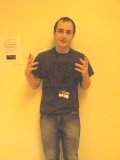 At the beginning of a football season, the head coach might say, "Men, I want you to think of one word all season, one word and one word only: Super Bowl!"
It's now the end of the season and there are only two teams left, the Denver Broncos and the Seattle Seahawks.
Not only are the football players on those two teams excited, so is Mason Anderson, a junior at Pattonville High School.
"I think the Seahawks will win," Anderson said, "because they're underdogs and they have a great defensive line."
He said the Seahawks will also find success in the game by calling a lot of running plays and testing the Broncos defense by throwing a lot of Hail Mary passes.
Anderson added the only way the Broncos will win is if they do a lot of blitzes and screen passes.
"My favorite part of the Super Bowl other than the game and all the players trying to do their best is the commercials," Anderson said.
The game kicks off at 5:30 p.m. on February 2. It will be televised on Fox.