Information on new ID policy and class meetings
PattonvilleTODAY staff
January 4, 2013
Hang on for a minute...we're trying to find some more stories you might like.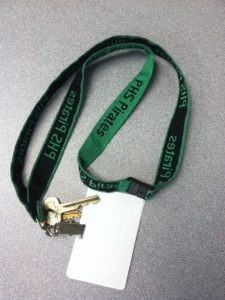 Staff distributed lanyards and IDs to students during Pirate Connections before 1st hour on Thursday, the first day back from winter break.
Students were responsible for wearing school-issued IDs around their neck starting Jan. 3.
Accountability procedures were shared with students by their Pirate Connections teacher and with an announcement made over the intercom by Dr. Joe Dobrinic, building principal.
At the beginning of the first period of each day, staff should ask if any student is in need of an ID. If a student does need an ID, the staff member will notify the AV department and an ID will be generated. Students will then have the responsibility during passing time to go to AV and pick up the new ID. In addition, students will be charged $2 for every new ID made.
After first period of the day has passed, any student who arrives late to school without an ID will be directed by the security staff to obtain an ID from AV.
No staff member should admit students after the first period of the day without an ID. Students should be directed to report to AV to get an ID and return to class with an admit slip. The admit slip does not excuse tardiness or truancy.
Students without an ID during passing time will be stopped, questioned and directed to AV.
AV will be available from 7:10-7:23 a.m. for any student needing to obtain an ID before the first period begins.
If a student is wearing another student's ID, the ID will be confiscated, the student will be directed to AV and an office write-up to the student's principal for the violation of Student Handbook Policy Forgery/Fraud found on page 20 of the student handbook will be made.
KMOV reported of the ID policy earlier in the week:
CLASS MEETINGS
Dr. Dobrinic will be meeting with each class on Friday, Jan. 4, in the auditorium. Each meeting will last approximately 40 minutes.
Seniors: 7:35 a.m.
Juniors: 8:30 a.m.
Sophomores: 9:30 a.m.
Freshmen: 12:45 p.m.