In the face of disaster, a community comes together [ARCHIVE]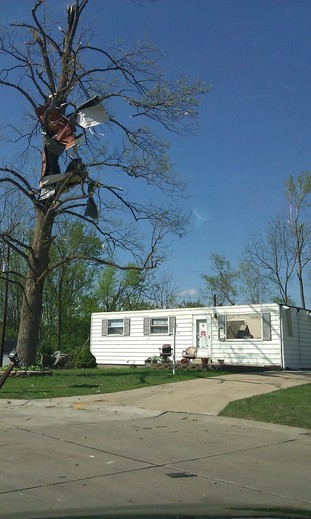 PattonvilleTODAY staff
April 22, 2013
Hang on for a minute...we're trying to find some more stories you might like.
From the archives. By Elise Moser, Jacob Sharp, and Geri Farrell (April 2011)
MARYLAND HEIGHTS – On Friday, April 22, a violent storm ravaged areas in the Pattonville School District. A tornado touched down in areas near Rose Acres Elementary School and Harmann Estates subdivision, leaving many homes severely damaged.
The night of the storm, emergency responders were dispatched to Bridgeton and Maryland Heights. Pattonville High School served as a home base for fire departments and police crews.
Officer Mike Mooney, school resource officer, was dispatched at 10 p.m.
"We served as a liaison between the Pattonville Fire Department and the Maryland Heights Police," he said.
Superintendent Mike Fulton said the high school played a critical role in providing support. Fulton was on scene at the high school the night of the storm and said the emergency response teams did an excellent job.
"They would meet in the commons—that was the team meeting area," he said. "As crews from across the metro area came in, they'd have their team meetings and then they'd roll out and another crew would come in."
Fulton said it took a day to really understand the amount of devastation.
"I think it was difficult in those early hours for anyone to understand the magnitude of this storm," he said.
Rob Lamb, chemistry teacher, also went to help on the night of the tornado. Lamb's friend from high school lives on Diane Marie Drive. His home was destroyed in the storm.
"It took me three different ways to get in and then they stopped me because of the gas leaks. So I had to hike in," he said. Lamb described the scene that night.
"It looked like what you see in the movies," he said.
KSDK reporter Frank Wiley was sent on assignment to Maryland Heights on the night of the storm. He had trouble getting to the scene.
"We circled the block several times…the police had blocked everything off. I actually had to walk a mile and a half," he said. Wiley added the scene was chaotic.
"The only lights we had were the lights we provided for our lives shots and the flashing lights from police cars," Wiley said.
The Pattonville community began organizing a relief plan on Monday, April 25. Classes were not in session for students but staff members went out into affected areas to try to help.
Fulton said canceling school on Monday gave the district time to regroup. Fulton spent Monday organizing bus routes with the transportation department and getting district counselors together to prepare for students on Tuesday.
Fulton said coming back to school on Tuesday was important.
"We needed to get back to school…but I think the most important part was that we needed to get people back together," he said.
Fulton said returning to school was important for students to establish a routine. It also allowed the district to collect more information about which Pattonville families were affected by the storm.
While school was not in session on April 25, staff and students worked around the community to start rebuilding.
"We want to make sure we can provide as much assistance to this community as possible," Gene Grimshaw, high school social studies teacher, said to KSDK reporter Heidi Glaus on April 25. Grimshaw drove several high school teachers to Harmann Estates to help clear debris.
Other staff members organized a place for people to drop off donations for storm victims. Students and staff collected clothing and toys for those in need.
Beth Moritz, high school English teacher, helped organize the drive.
"We are trying to do sort of a 'day of service,' so that people who want to help can help," she said on April 25.
Although students were off school on April 25, many went out into the community to help with the clean-up efforts. Senior Melissa Fulton used Facebook to get out the word.
"I just got on Facebook and posted a status to meet up at the school at 8:30 or 9 a.m. and people came."
At least 100 students helped organize donations or went out into the affected neighborhoods to clear debris on April 25. Dan Johnson, 12, was among the students who helpd on his day off.
"That was the first thing I thought of, 'how can I help?' It's something I look forward to, helping him," he said.
The relief efforts did not end on April 25. High school students were released early on April 28 to participate in another service day. Contact Time was eliminated so that students could help in the community.
Donations are being collected through the Pattonville Care Foundation. As of April 30, PattCare had collected over $16,000, according to Nancy Henley.
Many students also helped with Service International, a relief organization that came to help after the storm.
Volunteers from all over the St. Louis area have helped with the organization, which requires its volunteers to be at least 16 years old.
"We're taking volunteers who are walking up and saying 'We want to help,'" Patti Fasnacht, a Service International volunteer, said. "A lot of these volunteers have never done this before."
Service International required walk-on volunteers to provide some personal information. The organization also has many volunteers in a database called "Rapid Responders."
In addition to Service International, the Red Cross has been a big factor in storm relief. The Red Cross set up a shelter at the Maryland Heights Center on Friday night. The shelter was available to anyone affected by the storm.
Renee Washington, a Red Cross volunteer, was a manager at the shelter. She said the first step to setting up a shelter is to collect supplies.
Those who stay at the shelter receive what the Red Cross calls "comfort kits." These kits include soap, shampoo, a comb, tissues and other toiletry items.
The shelter also offered food to those who needed it.
"We're feeding people three times a day," Washington said. "The community has really rallied around the Red Cross and they're providing a lot of the food."
Freshman Clareonta Banks spent some time at the shelter. Her home was not damaged, but without power, her family needed a place to stay.
"It makes me feel sad [to stay in the shelter] because the other people that we're talking to are saying that their house is completely damaged," she said. Banks said staying at the shelter was not ideal.
"It's not as comfortable as a bed would be," she explained.
Susan Warren of Ferguson also spent time at the shelter at the Maryland Heights Center. She was at church when she became a victim of the "Good Friday Storms." She went back to her neighborhood to a scene from a disaster movie.
"It was unreal. Just unbelievable," Warren said. "Our street was in ruins. Police were in the streets just trying to keep peace and keep the order. People were running around wailing in the streets. My grandchildren were crying in my backseat when we pulled up to our house, which was just gone."
Because of a heart condition, Warren needs a machine in order for her to sleep, which required electricity. The shelter was her only option.
"They feed us good, breakfast, lunch, and dinner, give us clean clothes, and I found a new pair of shoes," she said.
Many students at Rose Acres Elementary were affected by the storm. The tornado ripped through Diane Marie Drive and Beckford Estates Drive, which are both near the school.
"We have at least 10 homes that were destroyed," Steve Vargo, Rose Acres Elementary principal, said. Staff members at Rose Acres worked near the school on April 25.
"We have a lot of our teachers helping families that we know were affected," he said.
Vargo said he is making sure his students feel safe, since disasters such as the April 22 storm can be traumatizing for young children.
"Our counselor is working with other counselors in the district and they're coming up with an action plan to support students," he said.
Kim Zuccarello, a third grade teacher at Rose Acres, was directly affected by the tornado. She lives on Rose Acres Lane.
"All of a sudden, you could hear the wind blowing and it was like a really deep foghorn going off," she said as she described the storm. "It lasted about 30-45 seconds."
After the storm had passed, Zuccarello and her family went outside.
"It was just unbelievable. I couldn't even describe it…really there was nothing to be done. We just walked the street trying to see if everything was OK," she said.
Zuccarello lives near many of her students and some of them lost their homes in the storm.
"My students walked to my house to check on me and they're the ones whose houses have blown away," she said, fighting tears.
Relief has come in from all over the St. Louis area, even outside of the Pattonville area. Kim Fitterling, Bridgeton resident and Pattonville parent, is principal at St. Charles West High School, where she organized a prom dress drive for girls who lost their dress in the storm.
"It is a way for me as a community member and a parent…it is also a way for my students at St. Charles West, right across the river, to help," she said.
Fitterling said donating dresses is a very personal way for her students to help. One student even wrote a note to go along with her dress.
Since the storm, news coverage of the Pattonville area has been abundant. Fulton believes this is a positive thing for the district.
"Pattonville defines community. You don't always get a chance to make that as public as we're being able to," he said.