Sunday Showdown
Hang on for a minute...we're trying to find some more stories you might like.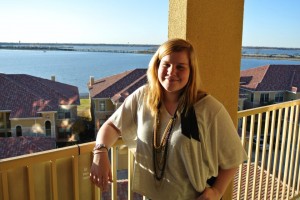 There is a time of the year that you can yell at the TV and stuff your face and it is considered OK. That time is Super Bowl Sunday.
On Feb. 5, the Patriots and Giants took the field at 5 p.m. at Lucas Oil Stadium in Indianapolis, Ind.
"I randomly pick teams to root for," senior Sierra Hartley said. She chose the Giants to win but ironically No. 81 Aaron Hernandez from the Patriots was her favorite player in the game.  Her reason was because "he's adorable."
This showdown between the New York Giants and New England Patriots was very intense.  By far the best part of the game was the sitting-down touchdown made by Ahmad Bradshaw by the Giants in the last minute of the game. This turned out to be the winning touchdown.
Hartley said that the last quarter was the most intense part of the game.
"I was yelling at the TV."
Madonna took the stage for the halftime show. There is much debate on if this performance was good or not but Hartley said she loves Madonna.
The headliner was joined by LMFAO, Nikki Minaj, and M.I.A.
The only mishap came when M.I.A got a little carried away making a gesture with her finger and the blur from NBC came a few seconds late.
Hartley had a few things to say about this show.
"I loved the drum line, I was so jealous." But her favorite part of the halftime show was the end when it said "World Peace"
Hartley had mixed feelings about the ending of the game though. She wanted the Giants to win but her favorite player was the one trying to receive the ball during the final play to win the game. He came up just short of making the catch. Overall Hartley was ecstatic that the Giants won.
Commercials are one of the top reasons some people watch the Super Bowl. This year there were many car commercials.  Many of the car commercials were not worth the watch though.
The H&M commercial of David Beckham was one of Hartley's favorites. But one in the running to be the top was the M&M commercial with LMFAO's song "I'm Sexy and I Know It."
Overall this game didn't pick up until the last three minutes. Those three minutes made the whole thing worth watching.