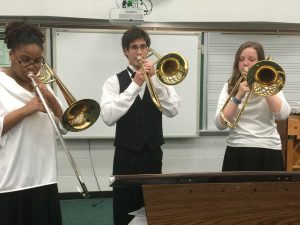 Band, choir, and orchestra students competed in the All-Suburban Solo and Small Ensemble Festival held at Parkway Central High School. Students who received an exemplary score (a 1-rating) are eligible to participate in the State Solo and Small Ensemble Festival held in Columbia, Missouri.
Sophomore percussionist Christian Baugher competed with the piece "Furioso and Valse in D Minor" by Earl Hatch.
"I practiced my piece for 30-minutes to an hour a day, three days a week," Baugher said. "Before performing, I was a little nervous about the quality of the piece and anxious to get it over with."
Baugher memorized his piece and performed it in front of a judge.
"I received a 1-rating, which automatically qualifies me for State," Baugher said.
Choir student senior Opal Pursley started preparing for the Solo and Ensemble Festival back in November.
"I picked my songs back in November so that I could familiarize myself with the pieces," Pursley said. "As the contest slowly approached, I would practice every morning in 1st hour and after school frequently."
Before performing, Pursley's nerves were calmed by her confidence.
"I was slightly nervous about performing, but more excited because I was finally confident in my preparation vocally and technique-wise."
Junior Gianna Bonner performed with a choir ensemble group, the High C's. Bonner was a bit nervous about performing, but the hard work had paid off.
"I was a little nervous, but mostly excited to sing for what we had worked so hard for. We held practices at 7 p.m. each night and worked meticulously on our parts," Bonner said. "In the end, we received a 1-rating, the highest rating, which qualifies us for State."
Band ensemble member sophomore Makyla Boyd was thankful for the many people who came to support her group.
"I think our trio was nervous about this performance because we knew that the judges were a lot tougher than last year," Boyd said. "For me, seeing the directors and our parents support us helped me fight through the nerves, calm down, and do my best."
Boyd is even more thankful that her group qualified for State.
"Our group practiced twice a week for a two hours each day. We started with a run-through of our piece and then assessed trouble spots and recorded ourselves," Boyd said. "Thankfully, our group received a 1-rating, so we qualify for State."
Orchestra students sophomore Adam Mitchell and freshman David Chien performed violin solos at the festival. Both of the boys dedicated their nights in order to prepare for the competition.
"I prepared by practicing 40-minutes every night, went to private lessons every Thursday, and went to my pianist every Saturday leading up to the event," Mitchell said. "I spent about 8 to 9 hours a week preparing for the competition."
Chien practiced with his brother every night.
"At home, my mom would ensure that my brother and I practiced together for at least one hour a night, up until the night of the competition," Chien said.
The students who qualified for State will be competing again in April in Columbia, Missouri.
FULL LISTING OF 1-RATINGS
LIST PROVIDED BY MUSIC TEACHERS
BAND
B-Flat Clarinet Solo – Amy Azwell
Keyboard Mallet Solo – Christian Baugher
Trumpet Solo – Evan Clark
Trumpet Solo – Grant Cushman
B-Flat Clarinet Solo – Keturah Gadson
Trumpet Solo – Blake Pfeiffer
Flute Solo – Olivia Wedig
Flute Solo – Holly Wurm
French Horn Solo – Kalekidan Yeshiwas
Clarinet Trio – Keturah Gadson, Raven Hayes, Nitori Henderson
Flute Trip – Holly Wurm, Brooke Crowell, Clarissa Rendon
Mixed Woodwind Trio – Olivia Wedig, Amy Azwell, Julie Halveland
Trombone Trio – Andrew Santa-Maria, Savanna Wooten, Makyla Boyd
CHOIR
Lesley Walker (Senior)
Marissa Dickman (Junior)
Amy Azwell (Senior)
Opal Pursley (Senior)
Elleni Yeshiwas (Sophomore)
The High Cs (SSAA Double Quartet) Laniya Anderson, Gianna Bonner, Sophie Vik, Marissa Dickman, Samantha Yancey, Jasmine Webber, Amy Azwell, Lesley Walker, Opal Pursley
ORCHESTRA
Violin Solo – David Chien (Freshman)
Viola Solo – Melina Custer  (Senior)
Bass Solo – Dax Faulkingham (Junior)
Violin Solo Jarred McCormick (Freshman)
Violin Solo – Gayathri Srinivasan (Senior)
Chamber Orchestra Bass Trio – Dax Faulkingham (Junior), Ben Moser (Junior), Abby Surlet (Freshman)