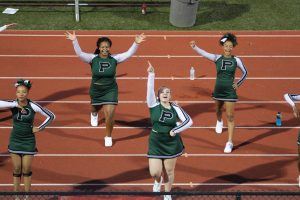 With all the intense heat and pressure at the homecoming game on Friday night, fans may not have noticed the extra people standing on the track alongside the varsity cheerleaders and drill team.
In between those spirit groups were the JV cheerleaders cheering during the whole homecoming football game for the first time.
"I'm really glad we got to cheer at the homecoming game," freshman Gabrielle Shipman said. "I really enjoyed the whole Friday night light experience and we finally got to cheer in front of a full crowd."
The 11 girls on the team performed in a pre-game routine with varsity and cheered the whole game alongside them as well.
"It was really fun having the other girls there with me," freshman Hannah Rodgers said. "Especially because a few of my friends are on JV so having them there was amazing."
A lot of the girls were inspired from the experience and many made a goal for them to do their best and make varsity next year so they can get Friday night lights every week.
"I'm gonna keep working hard so I can make varsity next year," Shipman said. "The whole energy of the game and from the crowd was amazing."