PHS Senior Releases His Second Studio Album "Rockstar Rage"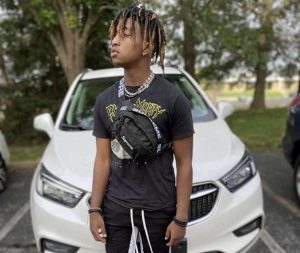 17-year-old Pattonville Senior, Zeresh Lewis Jr.  just released his own rap/hip-hop music online on many streaming platforms. While other students are trying to figure out what they want to do with their lives, Lewis is already starting his dream career.
"I'm excited… because it makes me feel more professional and it's available for people around the world to hear," Lewis said, explaining how he was feeling about his album being out published. Lewis' second album to be released is called Rockstar Rage and he describes it as a vibe with a little bit of rap, rock, R&B, and pop mixed into one project.
Lewis chose his artist name when he was in eighth grade. He explained that he chose "Z Flexxin" because flexxin means a lot of different things, but the most important is success." He also revealed that he started writing music around when he was in fourth grade, but he didn't start recording music until he was in seventh grade. He recalled that it was more of a joke when he first started off and did not really care if it went big or what people had to say about it. His biggest inspirations in music are Lil Uzi Vert and Blink 182, leading him to a career in music.
In a climate of social media criticism, Lewis said, "I don't get much hate online. The majority of the people who listen to my music enjoy it but there's always people who just vibe differently but I don't really get bothered by people who don't like it. As long as I'm successful I won't care what people think." To Zeresh, being successful is what matters in the end and nothing will stop him from reaching his dreams. Luckily, he is one of the few local artists who were invited to perform for the LOUD FEST in Texas on December 5 of this year.
With Lewis making music for three years now and has been working hard since then, it wouldn't be a surprise if he really makes it to the music world. He is currently in Pattonville's Chamber Choir and is definitely one of the best vocalist in the school aside from rapping. His music is available on Apple Music, Spotify, and Soundcloud.