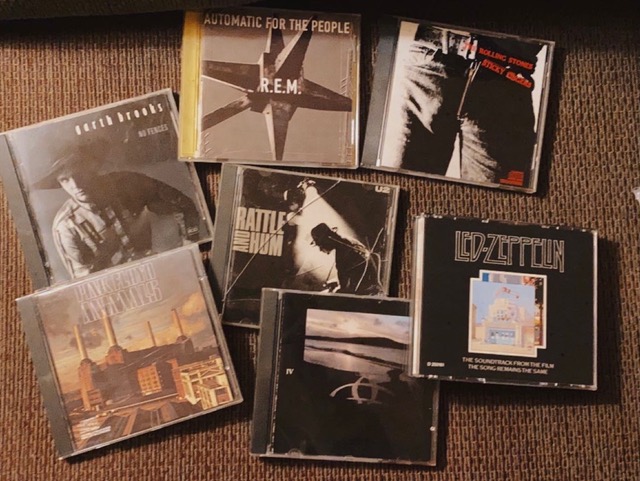 Jamie Grant
During quarantine, students at PHS have found that their taste of music have changed. The four types of music that these students have been interested in in the past seven months are country, rock, heavy metal, and rap. Ten students at PHS filled out a survey about what type of music and which songs they have listened to recently and how their taste in music has changed.
50% of these students said that they have been listening to country music during quarantine. "Forever After All" that was just released by Luke Combs has been a really popular country song recently along with his other song "Six Feet Apart."
"One of Them Girls" by Lee Brice, "Cold and Starting Over" by Chris Stapleton and "God's Country" by Blake Shelton are some other popular country songs right now.
Cody Hockaday says that his taste in music has changed because since he is at home a lot, he has more free time, so he has the opportunity to explore more music than before. He likes the songs "God's Country" by Blake Shelton, "Die a Happy Man" by Thomas Rhett, and "In Case You Didn't Know" by Brett Young. Cody likes these songs because they have a variety of different textures of their voices and their music is arranged nicely. He says that he has only found a few new music artists lately, but when he looks for new music or artists he looks for variety, unique, and different in some way. He likes to look for difference in the arrangement of the song, difference of the album cover, the way an artist sings and the special spin an artist puts on their songs.
20% of students surveyed have said that they like listening to rock music during quarantine. Chris Barton said that he has been really into anything by 80's rock bands in the past seven months since quarantine has started, but his music taste hasn't really changed from before. He says that his taste in artists have been the same, but he has expanded into different albums. He usually looks for music that his dad likes or recommends to him. He says that if he had to recommend one song to someone at Pattonville that it would be "Time For Change" by Motley Crue.
Ryan Holtgrave said that when he is working out, he likes to listen to Rock and Roll a lot, specifically bands like Metallica, and Five Finger Death Punch. He says that those songs keep him pumped up and in a good mood. He would recommend Juice World for just jamming out.
10% of students said that they have been liking to listen to Heavy Metal music recently. Some popular Heavy Metal songs that Dominic Way has been listening to are "Silvers" by Gojira, "Stranded" by Gojira, "Pisces" by Jinger, "Can You Hear Me" by Korn, "Feel Something" by I Prevail, and "Can't Speak" by Danzig. Dominic says that he likes heavy metal music. According to his Spotify wrap, he listened to hip hop and rap more often this year as well as some alternative artists. Ghostermane, $uicideboy$, Freddy Dredd, and Lil Peep were the artists that he listened to the most this year. Spotify showed that rock and metal bands were some of the heavily listened to also. Dominic says that his favorite go to bands are Five Finger Death Punch, Iron Maiden, CKY, and Linkin Park.
20% of students said that they have been listening to all different types of music lately and not just one specific category. Some different songs that have been listened to by students at PHS are "Let It Be" by the Beatles, "Everything" by Queen, "Boyfriend" by Hardy, "Pour Some Sugar" by Def Leopard, "Sweater Weather" by The Neighborhood, and "We Fell in Love in October" by Girl in Red.