OPINION A place where everybody knows my name
January 9, 2018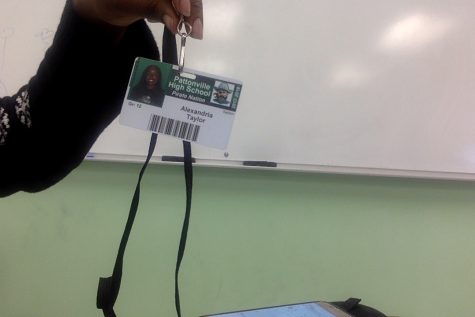 "Put on your ID," teachers snap at students strolling through the hallways. One student, a young freshman yet accustomed to the military traditions at Pattonville, is taken to the side of the hallway and berated for not wearing her identification.
Her punishment: $5 for a piece of plastic that will somehow effect the entire schooling system.
"The system is definitely rigged," senior Lindsey Lorsbach said.
In all her four years of Pattonville, she has seen many fall to the pure capitalism behind IDs. For one plastic identification card, the price is $3. To add on a lanyard, the price is $2.
"And for what? For people to identify us in a case of an emergency? I've known most of my teachers for years, shouldn't they know my name by now?"
She holds a strong point.
Wouldn't you like to go to a school where the teachers are hands-on enough to know all of their students' names? Is this too much of an unrealistic request? If someone can somehow force their way into the school behind our police and principals, then how could they not too forge an ID?
"I don't like ID's, but I still wear mine," Darion Shields said. "I know the punishment if I don't, and I just don't want to go through all that."
But why should students exist in an area of fear? A place where teachers and principals constantly force students to repeatedly pay $5 they may not have to buy an ID. Of course the first ID is guaranteed and paid for by the school – a nicely wrapped gift from a tyrannical dictatorship. If students lose or misplace this ID, then they are forced to get another and another if the process keeps repeating.
But what if we simply got rid of IDs? If the only reason keeping them here is in case of a school invasion, what are the odds of them infiltrating without an ID and still making it?