Ndungu is state-bound in cross country
October 31, 2018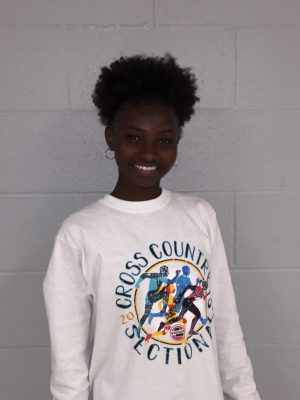 Lucy Ndungu is going to state for the second straight year in cross country. Ndungu is the only girl from Pattonville to qualify but will be joined by senior Robert Gibson and sophomore J.P. Killian from the boys' team at the state meet.
Last season, Ndungu made history with 2018 graduate Maryah Dominick when they qualified for the state race.
"I am incredibly honored to go to State again," she said. "No girls had made it to State in 7 years until we came along in 2017."
Lucy is now a sophomore and holds a bright future in cross country.
Watching inspirational videos and reminding herself that she could do it helped her prepare for the meet that made her state-bound.
"I watched inspirational videos to keep me motivated, reminding myself that I can accomplish anything in my life, and if I want success, I have to go get it the hard way."
Last year, Ndungu finished the 3.1 mile race in a time of 20:41.83 to place 79th out of 166 runners. She doesn't have any thoughts about that this time around.
"I don't have any hopes for the State meet but I can say that I will be capable of staying strong all the way until the finish line and I will make it no matter what the circumstances are going to be."
Through the sweat and tears, she still has the motivation to stay in cross country and work toward her dreams.
"When I am running, I will eventually shut everything out including my problems," Ndungu said. "Growing up, I always wanted to work really hard and not for anyone but myself."
The hard work and dedication that Ndungu, Gibson and Killian have put in this season have made them successful in cross country.
The State meet will be hosted at Jefferson Oaks Golf Course in Jefferson City on Nov. 3.