Foreign Exchange Year in Review: Marius Ignat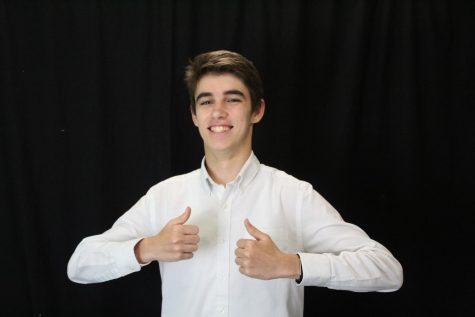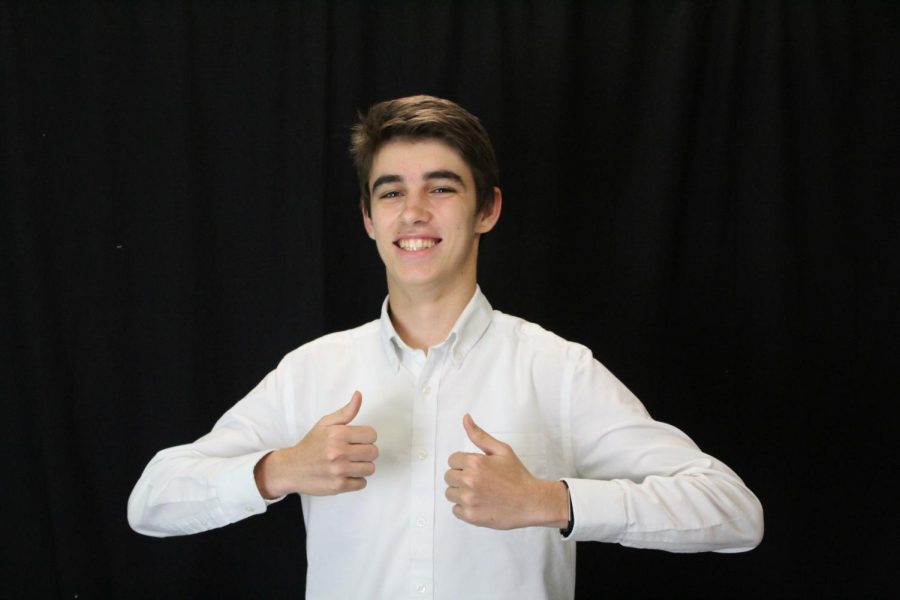 Is your hometown similar to St. Louis?
It is actually by the Danube [River] so that's kind of similar to having the Mississippi River by St. Louis and it's roughly the same size. The structure of the city is different. There's a downtown area but they don't have suburban areas, that's an American thing, so not that very much different. I'm not used to living in a suburban area. I'm used to living in an apartment block.
Is Pattonville similar to school in your home country?
School here is much more friendly in the sense that there is a sense of community and all the activities and all of the classes and teachers are much more open to their students than back in Romania. Romania school is more formal and strict than here. We do not have sports teams. There's no sense of "Yeah, that's my high school football team." We only have fútbol (soccer) for boys and a volleyball team for girls, but other than the people that are on the team, no one knows about the matches, it's very low key. We don't have clothes with our high school logo or spirit week or band.
Do you miss anything about home?
I would say that life here has been so fun and different that I have kind of forgotten to miss home, but I really miss the Romanian food. Usually fast food is an occasion like once a month. You usually have food cooked at home. I'm used to eating that rather than fast food in a restaurant.
Do you wish you would have done anything else while here?
One thing I could have done here that I can't do in Romania is learn how to play an instrument, that's something that's not available in Romania. There is no instrument teacher. We have music classes where we sing, the whole classroom learns how to sing. But if I wanted to learn to play the guitar, I would have to do that on my own there is no teacher that could help me.
Are you looking forward to anything?
Spending more time in St. Louis. There's a lot of things I haven't visited like the zoo, the City Museum, and I also have some friends I want to spend some time with before I leave.
What have you done here?
At the school, I feel like my main exchange student thing has been going to International Club and being in the International Club show. I also participated in recycling at the school. I've given presentations about Romania at the school. Around the city, I've been in the Arch. I've been on the other side of the Mississippi River. I've been in Washington D.C., Chicago, Hawaii, and Oregon, so you can say I've been in a couple places here.
Favorite Holiday You Celebrated Here?
Thanksgiving is really similar to what we have in Romania so I would say Halloween was the most different, because I don't really get to dress up crazy on the street at 10 at night. We have Halloween, but the most Halloween thing you can do is, as a girl, go to school with crazy Halloween makeup, but as a boy you don't really do that.
Favorite Food Here?
Shout out to Steak 'n Shake! Steak 'n Shake burgers are the best. They're so good. I never imagined that a burger could take the shape of a thin patty. Other than that, I really like gooey butter cake. I like cheesecake, it's pretty similar.
Favorite Teacher?
I am sorry to all my other teachers. My favorite teacher is Mr. Jeremiah Simmons. He's been Teacher of the Year but he really influenced me and what I want to do later in life. And he just opened my mind to the world of computer science, pretty cool.
Favorite Class?
My foods classes. I've had World Foods and Food Science. They're really different from what I'm used to. Cooking wasn't a thing you did in school so that was really fun. Also, relaxing during the day.
Least Favorite Class?
The one I had to take was ACT. Not that I didn't like it, but it was mandatory, something to get over.
Favorite Activity?
The International Club. It's really fun to have people you can relate with and sharing my culture. Also experiencing other cultures is kind of like my main job as an exchange student.
Favorite School Year Event?
The International Club show. It was something I couldn't believe I was actually doing and it was nice knowing that in my little flag part I could represent my country.
Favorite Location?
Above the city inside the Arch seeing all of St. Louis and being able to recognize some landmarks was pretty cool. It puts everything in perspective.
Favorite Memory?
Surfing in Hawaii after Spring Break. It's something I wouldn't have thought I would be doing. I actually talked with the people I was with, with my chaperones, before going into the water. They were like, "Are you sure you want to do this?" And I was like, "I don't know, I'm just gonna try it." Then I did it and it was just like, "Phew." Mind Blown.
Least Favorite Memory?
Going to take my ACT test. It was so very stressful and it was something I had to do and had to prepare myself for a long time, so it was a very stressful moment.
Funniest Memory?
First day of school when I got in the car and I looked down and I had my slides on. In Romania, you're not allowed to wear slides at school so I started hyperventilating and freaking out. My host mom dropped me off at the bus station and drove back to the house and got my shoes. I just managed to get my shoes on in time to get on the bus.
Hardest part of being a foreign exchange student?
The beginning is the hardest part of being an exchange student because of making friends and getting into all the different activities, like finding your own place in the school.
Rate Your Experience?
9/10 because nothing is perfect, but that doesn't mean I didn't have the time of my life.
What would have made your experience better?
I've been involved in a lot of stuff but if I were to start everything over, I would be involved in even more stuff because there's a lot of opportunities.
Future Plans?
This year, in September, I'm going to be going to London to study computer science at the University of Westminster, so I'm still going to be going to a different country different culture and experiencing that.
Donate to PattonvilleTODAY
PattonvilleTODAY intends for this area to be used to foster healthy, thought-provoking discussion. Comments are expected to adhere to our standards and to be respectful and constructive. As such, we do not permit the use of profanity, foul language, personal attacks, spam, or the use of language that might be interpreted as libelous. Comments are reviewed and must be approved by a moderator to ensure that they meet these standards. PattonvilleTODAY does not allow anonymous comments, and PattonvilleTODAY requires first and last names and a valid email address in order for comments to be published.