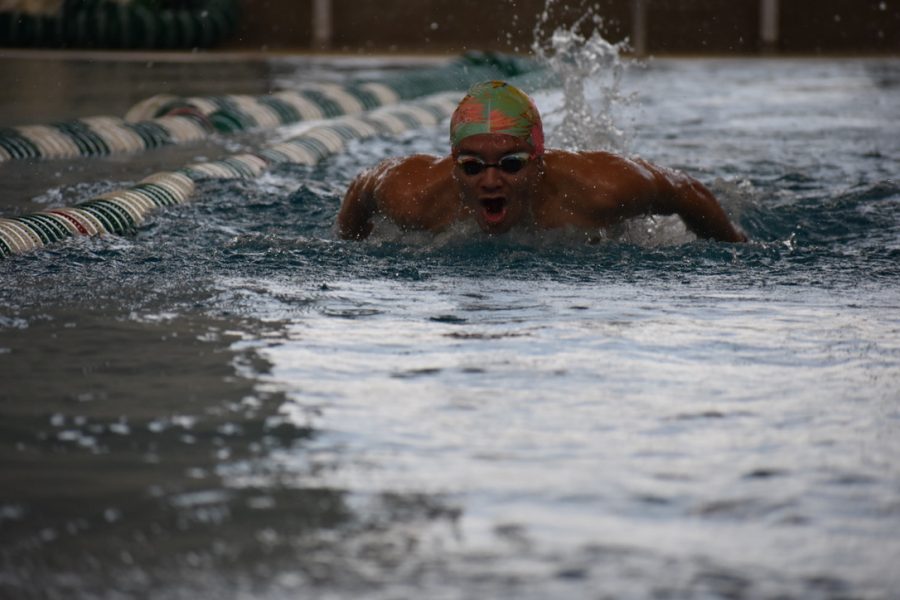 Boys' Swimming Dives into Another Season
With a rough start to Pattonville's fall sports, boys' swimming and diving is back and ready to compete.
Already into the season, Wyatt Martin qualified for state in the 50M Freestyle, and also broke the school record for the 100 backstroke, finishing with a time of 1:00:98. Their last meet was on Tuesday, October 20, losing against Webster Groves with a score of 68-112.
Coach Braswell stated that their goal for this season is to have two-three swimmers and three relays to qualify to state championships. They also hope to get at least one PR for every swimmer in at least one event. Other than that, swimmers and divers are working towards their own personal goals and the team goal of qualifying athletes to state.
Christopher Tobar, senior at PHS, stated that his main goal is to obtain some individual records. "The 100 backstroke record is in my sights right now and considering I'm less than a second from it, I think I can achieve it pretty quickly. Another race I think I have a shot at is the 200 IM. Although it'll be more difficult, I'm confident in my ability to rise to the challenge. I also would like to go back to state for my fourth year in a row, although I'm not quite sure how the state will look this year."
Wyatt Martin, junior, stated that in order to practice and get ready for meets, he makes sure is is always hydrated throughout the day and to stay calm. "Another thing is that I am always focused on accomplishing any goal that I want. If I say I'm going to do something, you bet I'll do it."
By the end of Wyatt's senior year, he hopes to have all the individual records for swimming, but that comes with a lot of hard work to break those records.
When it comes to swimming, Christopher has a couple of sources for motivation during this time. "The first would be my innate love for the sport. Being in the water just feels natural, racing is exhilarating, and practices are a healthy way to let off some steam. From March to mid-May when there were no pools open, that was a terrible time for me because I didn't have that option to do what I love," he stated.
However, it ended up being beneficial. "I reverted to a very malleable technique so my club coaches could fix them and help me swim faster and healthier."
Christopher's second reason of motivation is to create a legacy. "I helped take down a 36 year old record for the 200 Medley, that gives me confidence that my name will be up in Pattonville's pool for a good amount of time. And lastly, my third reason is because if at all possible I'd really like to swim in college. I'm interested in a D1 school, so if I want to actually make the team I have to work my butt off, even in the midst of a pandemic."
Coach Braswell addressed some changes that have taken place during practices due to COVID. "As of now, there are no spectators allowed for inside competitions which makes it a little more quiet during competitions. Meets are also run a little differently with more spacing between teams on deck and lanes to provide less interactions between athletes."
Christopher had some closing words for anyone interested in joining Swimming & Diving.
"
To anybody in middle and high school who is reading this and is interested in swimming (or diving!), please check out the swim team. Pattonville has a phenomenal pool, good coaches, and it's an overall fun sport. "
— Christopher Tobar
Boys' Swimming and Diving next meet is Friday, October 30, at 4:15pm. Even though there are no spectators, virtually cheer on your boys' swimming and diving team.
Donate to PattonvilleTODAY