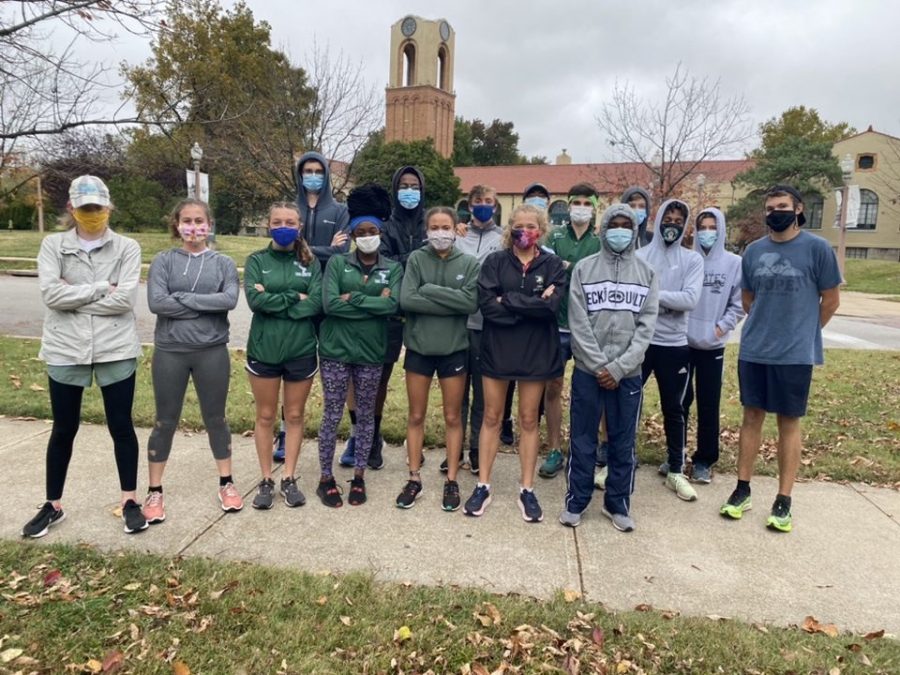 Photo courtesy of Coach Gengler
Cross Country Sprints to the Finish of the Season
After Pattonville decided to postpone sports to the alternate fall season, many athletes' hopes plummeted as to whether they would get a competitive season or not, including Cross Country runners.
Part of the problem, as Coach Hall pointed out, was the varying plans among districts. "I knew it would all be good if the St. Louis County schools all made the decision to switch, too. But they didn't. I knew at that point that this was going to be a terrible idea for my athletes because we would have very, very little competition in the alternative season."
So, after Pattonville announced that low-contact sports could have a competitive season this year, many of these athletes were excited. "When I found out we were getting a season, I was ecstatic. I was crying when I told my dad, I was so excited," stated Kalista Roades, junior cross country runner.
Because cross country is now able to play, this meant players had to change their mentality. "I had to shift from a 'this is the last hurrah' mentality to a 'we're just getting started' mentality when we got the announcement because it came two days before our last virtual meet we had planned," Kalista said.
JP Killian, a senior on boys' varsity cross country, stated, "The news about having a season changed my mentality extremely quickly. I went from just worrying about going for easy runs to knowing I had limited time to train, and worked hard."
Since the teams started weeks late, they have to take every week carefully and take advantage of workouts. "Cross country is working really hard to catch up to the other teams who had a few meets under their belt," Coach Hall states.
Coach McClellan, coach for boys' cross country, says, "I was excited that we were going to get the opportunity to run and compete but at the same time, I knew it was going to be challenging since we were starting 5 weeks behind everyone else. Cross Country is a sport that takes some time to get the team into racing shape and this season we don't have as much time."
Getting back in shape takes time, but as Coach Hall says, "I wanted to get straight to work because I knew we were a month behind all the schools we have to compete against, so I've been working my athletes hard, but they've all risen to the challenge."
Cross country may have been weeks behind everyone else, but they have done well catching up, and with districts and state coming up, they are ready for the challenge.
Cross Country is following all the guidelines Pattonville School District and St. Louis County has set for high school sports. The meets have a limited number of runners and teams, most races the limit is 49 athletes, on top of spreading out the starting boxes. The athletes are supposed to wear masks any time they are at a meet, other than three minutes before the race, and they put them back on after the race is finished.
Check out Boys' XC Instagram and Girls' XC Instagram for pictures and updates on races and meets.
Donate to PattonvilleTODAY