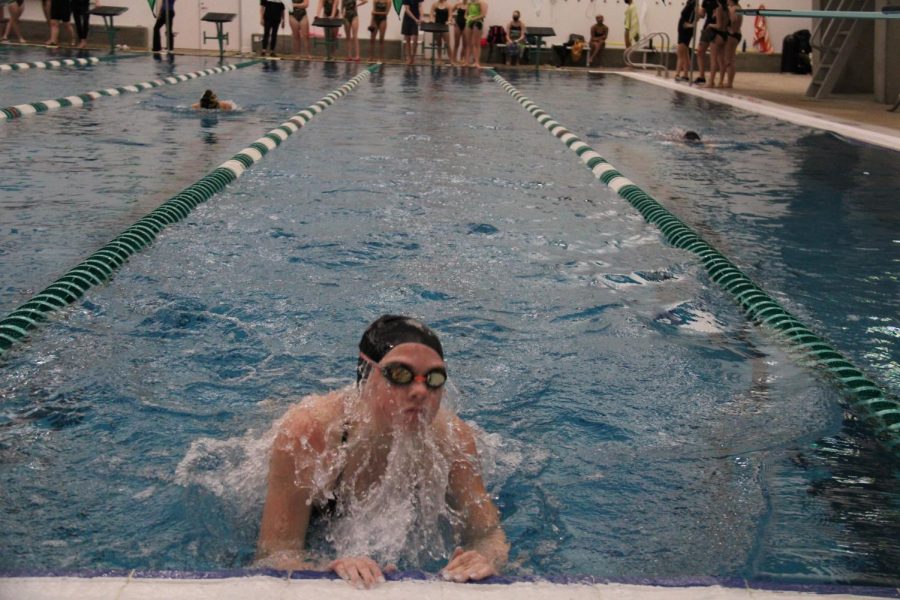 Emma Eiswirth First Freshman Girl Swimmer Since 2005 to Make State
After 22 meets, Emma Eiswirth made it to State as a freshman on February 18 and 19, competing in the 100 breaststroke. Although the relay was very close, Eiswirth was the only swimmer on the team who made it to state. She placed 15th out of 32 girls overall at the state competition.
It is pretty rare that an athlete qualifies for state as a freshman; Pattonville hasn't had a girl qualify for state as a freshman since 2005, which was Leslie Goetz.
"
"I'm only 14 years old and I will be going up against 18 year olds. It's also a big deal because I'm so small and I go against people who are a lot bigger than me and the fact that I can compete with them is amazing.""
— Emma Eiswirth
"One thing that stood out to me was that when all of my friends and coaches found out that I had broken the record, they were all so happy for me and ran over to me and gave me so many hugs. I just felt really supported and it made the experience 10x better," Eiswirth said.
Eiswirth was really excited that she placed 15th at state. "I was really happy because going into state I was ranked 28th so by making state finals, it was really amazing."
"The only thing that I think I could improve on is just not being so nervous before and just go out and have fun with it," she added. "Other than that, I think I did really well and was happy with the way I swam."
Eiswirth's advice to younger swimmers would be to "always push through, try your best at every practice not matter what, and don't give up because the results will pay off. Always talk to people and use your nerves because they will help you!!"
While she has broken a record, she is currently setting her sights higher. "I would like to break the 200 IM record and then get top 8 in state in the future."
Eiswirth values the people she met through the team. "I love them to death, and swimming would not be the same without them. I also made amazing relationships with people this high school season and can't wait to see what the next three years bring us."
Donate to PattonvilleTODAY