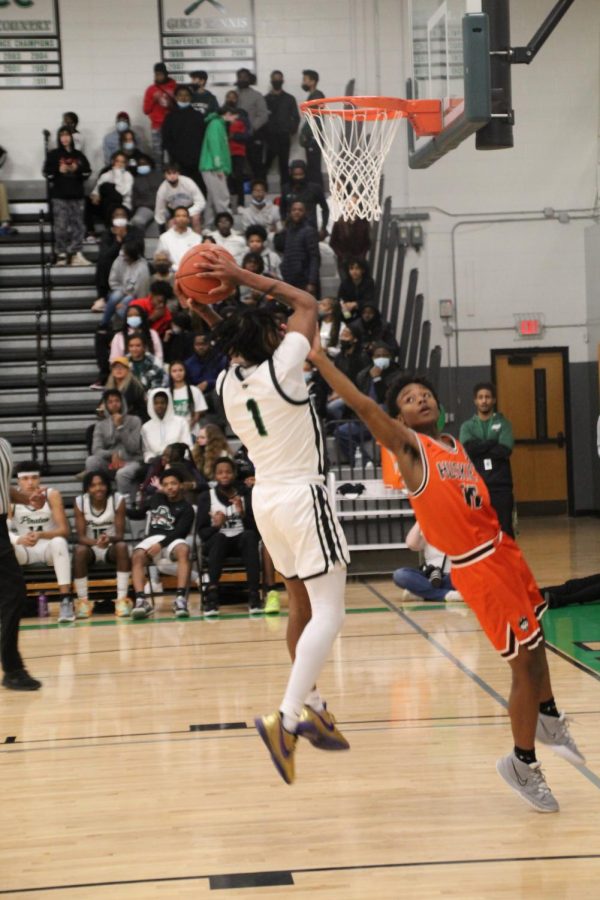 Shooting and Breaking Records
After winning the season with a record of 17-11, the Varsity Boys' Basketball team had a number of record-breaking victories.
Senior Kellen Thames became the all-time scoring leader with 1,700 points, breaking Darrow Washington's record which was held since 1977, and was also named Conference and District Player of the Year, All-State, All-Metro, and a McDonald's All-American Nominee.
Senior Umar Barrie, senior Austin Prater, and junior Zion Hampton were named to the Honorable-Mention All-Conference team, and Barrie also received the Sportsmanship Award.
Senior Ronnell Johnson also made All-District and 2nd Team All-Conference.
Coach Thames said that the team had hoped to compete for a state championship.
"Overall, we had a very good season playing a very tough schedule this year," Thames said. " I am very proud of how we played throughout the season."
One thing the team struggled with this season was "our defensive rebounding, but as the season went on, we became a very good rebounding team."
Ronnell Johnson said that this season he improved on his stats.
"I made All-Conference, All-District, and I averaged 12 points," he said.
When Johnson found out he made All-Conference, he said he was happy to be recognized for his talents.
"I feel like I should have made 1st Team All-Conference, but it's okay, I'm glad I got recognized."
"As a team, we started out soft," Johnson said, "but as the season started rolling, we became tougher and became more of a unit."
Both Johnson and Coach Thames' favorite memory from this season was playing on ESPN at MIZZOU during the Norm Stewart Classic Basketball shootout.
The Norm Stewart Foundation strives to support cancer research while providing a spotlight for high school basketball across the United States.
The Norm Stewart Classic is the only high school shootout that has a game tip-off every two hours for 48 consecutive hours.
The Pirates played against Rock Bridge Sr. High School from Columbia during the shootout.
"The odds were already against us," Johnson said, "and the referees weren't really showing us any love, so we were down the whole game, but we ended up coming back and winning."
Johnson was really pleased with how the season went, and can't wait to see what comes next, especially after earning a scholarship and committing to play basketball at Fayetteville State University next year.
Donate to PattonvilleTODAY