SNHS volunteers at Loaves and Fishes
Hang on for a minute...we're trying to find some more stories you might like.

Spanish National Honors Society (SNHS) volunteered their time after school on Monday, Nov. 25, to serve a Thanksgiving dinner to the women and children at Loaves and Fishes. They began their visit with the brief history of the organization itself.
Thirty years ago, a man knocked on Dr. Donald C. and Dorothy M. Femmer's home asking for food and shelter.When he left, they promised never to let anyone leave there hungry again. Now this shelter provides food for at least 7,000 people each year. Going through many changes and renovations, they transformed it exclusively for women and kids with 29 rooms available. The women have 90 days to get on their feet before they have to leave the property.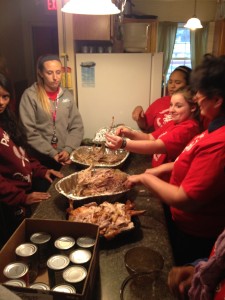 Each SNHS member contributed to the cause by bringing in food or utensils to serve to the women and kids. The visitation lasted from about 2:45-5:45 p.m.
"I brought some dessert for the dinner and helped set up," junior Canaan Kerr said. "I really enjoyed the experience because it was my first time volunteering at a food pantry."
The trip also included a tour of the entire facility and the shelter itself. This part of the trip was very emotional for most of the members, because it really made the club appreciate everything they have.
Senior President Geizy Momanyi of the SNHS club said, "The trip felt reallygood, it was a real eye-opener and taught the club that not everyone is as fortunate as we are. I think as teens we don't get to see that aspect of the real world a lot."
The members then began working as a team by decorating the room with flowers and preparing the Thanksgiving meal. The women and kids were very grateful for the meal, and repeatedly thanked SNHS for their act of kindness.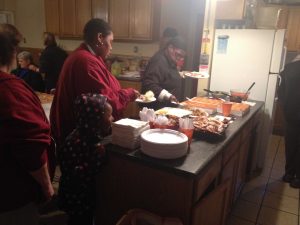 "I think I saw a woman walk in with her daughter that wasn't a resident yet. It was really cool that I was there at that moment, and was able to provide her food," junior Sasha Shook said.
SNHS really encourages Pattonville students to go and volunteer as a great way to help out the community.
Anyone can sign up and volunteer at Loaves and Fishes by contacting the Maryland Heights office at (314) 291-3857 from 9 a.m. to 5 p. m.
You can also donate food, clothing and cash to Loaves and Fishes at anytime.