The officers at Pattonville work to 'Serve and Protect' the students
Hang on for a minute...we're trying to find some more stories you might like.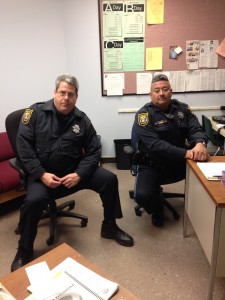 Pattonville High School has two police officers who try to make the school a better place: Officers Mike Mooney and Jim Vinyard. These two proudly risk their lives every day in the line of duty, but during the week they are at school keeping students safe from harm's way.
These two do not have an average job like the staff at our school. There are many important things they do to help out with the school.
Some of the things that these two do around Pattonville involve a lot of time.
"We work with the school district and help out with safety and security plans, we listen to what might be happening around the school and if we think something bad is about to happen, we are there to help prevent incidents before one happens," Mooney said. "We are involved in a lot of mediation, we inform the school administration about the crime trends or illegal activity that might involve students or staff at the school."
These two do whatever it takes to make Pattonville a safer place.
"Being at the school is completely different than being out on the street," Mooney said. "On the street, our policing is more active than the school. We work as a team with the administration to make the school a better and more safer place to be."
There are many important tasks that these two have to deal with, many of them involve other students around the school to hear what they have to say.
"We build rapport with kids because the kids are the best source for information about things that may be at harm around the school's environment or themselves," Mooney said. "The kids want to be safe and kids will work with us so we can be sure that our school will remain safe."
This happens almost every day, either with a student who might have a weapon or a student that might have drugs, Vinyard said.
"Sometimes the students or their parents come to us saying that there is harassment going on between two or more students," Vinyard said. "Students often come to inform us about fights that are about to happen inside and outside the school. Students are our main source of information when it comes to problems that are happening around the school."
Being around kids all day can be a good thing or a bad thing depending on what kind of person you are, but some people appreciate being around kids in their line of work. Since day one, Mooney knew he was going to work to protect children.
"Yes, I made a career decision, this is what I wanted to do and I chose to do so," Mooney said. "I couldn't think of anything I would rather do than be at this position helping children and staff remain safe."
Whether a person is in a school or a public park, there will always be a chance of danger.
"There are many kinds of trouble that can happen at Pattonville like fights, stealing, and drugs," Mooney said. "Although minimal, we have had some drug and weapon violations in the past. This year there has not been any weapon violations, but there has been drug violations. Anything that can happen in the real world can happen in the school."
Though, not everyone is meant to protect civilians, these two proudly do so with honor.
"We're here for the worst-case scenario, but we hope that this doesn't happen," Mooney said.
"We put ourselves in harm's way" is the oath that both Officer Mike Mooney and Officer Jim Vinyard had to take in order to become a police officer. They honor that oath every day they put the badge on and work at Pattonville.