Pirrie gets ready for Mr. PHS after finishing with musical
Hang on for a minute...we're trying to find some more stories you might like.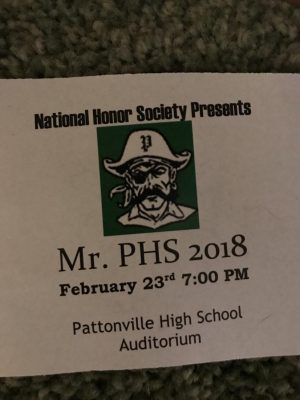 With Mr. PHS on Friday, Feb. 23, contestants have been preparing for their time on the stage. For senior Will Pirrie, his time on the stage continues just within days of the musical ending. Pirrie played the role of Gaston in the Pirate Players production of Beauty and the Beast last week, but this week, he will be one of the "beauties" in the pageant.
"Nothing's really changed," he said when asked if it was difficult going from the musical to the pageant. "It's all still dancing and singing, and that's what I'm good at."
Last year he was a co-announcer introducing the candidates and commentating during breaks, but this year will be his first time competing.
"It's kind of fun that I get to be in the dance this year and I get a chance at winning instead of announcing the winner," he said.
Pirrie has been performing on stage since he was a freshman, so this pageant is nothing new to him.
"It'll be fun competing with the other guys."
He also said he has confidence that he will either make it into the top 5, or even win, and nerves have not gotten to him.
"Me? Nervous? I live on stage you know that."
He will be singing as a talent, which is a normal thing for him at this point.
Mr. PHS will be held in the Pattonville auditorium on Friday Feb. 23, at 7 p.m. Tickets are being sold at lunches and at the door for $5.