Pattonville Varsity Drill Team places 1st in hip hop, 4th in pom at Lindbergh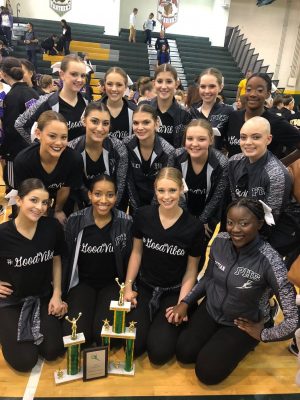 After a long three months of never-ending practices, Varsity Drill Team's hard work finally paid off at the Yvonne Cole Lindbergh Invitational Competition on Saturday, Dec. 2.
They took first place with their hip hop routine for the fourth year in a row, and finished in fourth place with their pom routine. They also won the outstanding precision award for their hip hop performance.
Four-year team member Brittany Bell said this weekend was pretty emotional for everyone on the team.
"While Coach Katie Funderburk was doing my makeup before we performed our pom routine, she was saying how she was about to cry thinking about it being her last time doing my makeup for the Lindbergh competition," Bell said. "Right before the team went on for pom, I was trying not to cry also because I knew that it would be my last time competing in the Lindbergh Invitational with my team."
Luckily, Bell and the team were able to put their emotions to the side while on the floor and impressed the judges with their performance. They finished in 4th place in pom and only one point separated the second, third, and fourth place teams.
This is only the beginning of the competition season for the Drill Team.
The Varsity Drill Team will now go back to practicing and perfecting their routine until the St. Charles Competition at the end of January. They will also compete at the state championships in February and the NDA Nationals in March.
Until then, the Drill Team will be performing at select varsity boys' and girls' basketball home games at halftime.