Students hold Secret Santa parties during the holiday season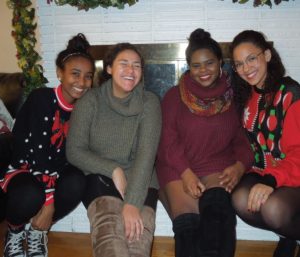 One of the best things about the holidays is spending it with friends, and many student groups organize Secret Santa gift exchanges.
One group is the Pattonville choir.
"The choir Secret Santa is something we do every year," Nadia Maddex said, who also participated in a Thespian event. "There's a $15 limit and we draw names and do the gift exchange on the day of our final."
In addition to school clubs that do Secret Santas, groups of friends do it too. A group of girls in the sophomore class organized a Secret Santa between them and even planned a party.
"We're doing our gift exchange and dinner at Carly Campbell's house," Kathryn Wentz said. "We have a budget of $40 and each one of us are bringing something to the party. Whether it's a dish, a soda, silverware, or a dessert, we all signed up for something and it's gonna be a lot of fun."
Another gift exchange is being organized by the Class of 2019 who have plans similar to the sophomore girls. .
"We're gonna exchange gifts at Shannon Wetzel's house, and it's  an ugly sweater-themed party," Brooke Guiot said. "We all filled out forms with questions about what we wanted on it. There will be lots of holiday themed drinks and snacks. We've also planned a lot of games, and we're all going to spend the night after."
If you are participating in any Secret Santa events, share your photos with PattonvilleTODAY. Send pictures to @phsTODAY on Twitter and Instagram and you could be featured in a yearbook spread.