Boara breaks 23-year-old school swimming record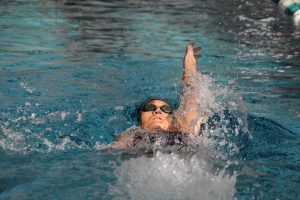 Sophomore Richa Boara broke the current school record on Thursday in the 100 Backstroke by almost a second with a time of 1:04.62. The 23-year-old record of 1:05.40 was set by Paige Pierce in 1995.
Pattonville won the swim meet on Senior Night against Fort Zumwalt East 126-60
Even though she is currently a sophomore, Boara has been working to break this record since freshman year and has dreamed of the day that she would be able to beat a school record.
"Since freshman year I've had a time of 1:05 so it's really awesome to finally break it."
Her time shows her improvement since she started swimming 7 years ago, but Boara hopes to drastically improve in later seasons.
"In the past years, I've worked hard, and in the coming years, I hope to work even harder to maybe beat my own record."
When she beat the record, her team and fans in the stands cheered for her.
"I was really shocked I was able to do it," she said, "but I've been working hard for a really long time so I was proud that I was able to do it."