Houghtaling wins Pirate Code Staff Member of the Week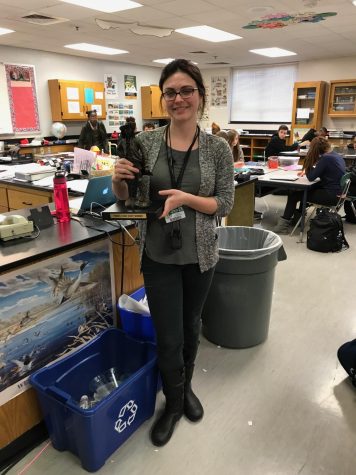 As another week comes around, another Pirate Code Staff winner is chosen. Last week, Ms. Jessica Houghtaling, a high school biology teacher, was selected as the Pirate Code Staff Member of the Week winner.
"As a Pirate Code teacher winner, I'm happy to work for a school district that recognizes personal development as well as academic success so I'm always pleased to hear that one of my students was drawn from the Pirate Code drawing," she said
Freshman Jonah Kendrick from Houghtaling's Honors Biology 1 class stayed after class to help clean up a lab when many of his classmates booked it out the door.
"It's hard to focus a 7th hour class, particularly during the end-of-the-day clean-up and lots of students were eager to clean up only their own stuff and then run on home."
Kendrick made sure that his table, and the places of others were tidy before he left the room.
"Jonah is always a very helpful and polite student and I am pleased that he is being recognized for his efforts."
Every week, a different Pirate Code Staff Member of the Week will be selected from Pirate Code tickets that students have turned in.
Remember the Pirate Code. Be Respectful. Be Responsible. Be Involved.