New videography equipment demonstrated at #METC18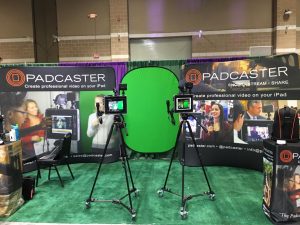 In the exhibition hall at METC, over 75 different vendors are showcasing their products to teachers, students and administrators.
Mr. Scott Caulfield, a representative from Padcaster demonstrated his video equipment to students. He is able to use an iPad which is lightweight and thin to capture professional photography and videography. He attached a lens to the outside of the iPad and the picture was instantly improved.
Students were really intrigued by some new and improved filming equipment.
"We've started doing weekly podcasts, and we're always looking for ways to make improvements and make things less complex and straight to the point," said Brandon Clark, a Pirates Sports Net announcer at Pattonville.
Caulfield says that people mainly use this equipment for high school sporting events in order to get high quality footage for a lower price and in a more efficient way.
"As of now, we are mainly focusing on golf and baseball, but this equipment is good for all-around coverage."
The difference in their product is that they offer high quality equipment for a low price.
"We have all of these high quality elements for a low price," he said. "Our cameras allow for streaming and emailing. Your entire mobile studio is with you."