University of Arkansas provides in-state tuition for online courses to #METC18 attendees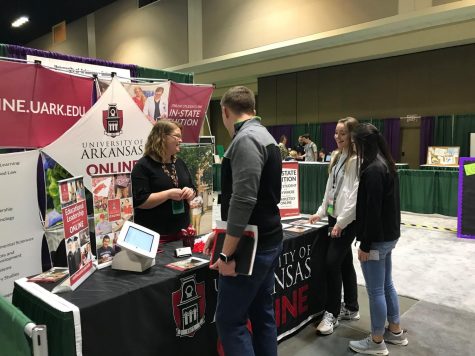 The University of Arkansas provides online courses for students that need flexible schedules.
Patty Miller from the University of Arkansas is at the METC conference talking about graduate programs, and opportunities for people to complete their degrees online.
"The biggest thing that online provides is flexibility. One of the targets that we're after is how do we keep people in their professions and doing the work that they love, but also letting them advance their career at the same time," Miller said.
Arkansas gives in-state tuition to students in Missouri. The cost of their online school is cheaper than most and provides students with a convenient program allowing them to finish their degrees at a decent cost.
"Different programs have different tuition rates," she said. "The University of Arkansas extends their in-state tuition rates, so it is the cheapest tuition we offer to any student taking our online courses, but it really depends on which degree and from which college you're enrolled to know the real cost."
The online program gives students the opportunity to get degrees on their own time. The University of Arkansas knows that some people require degrees but aren't capable to attend classes in person.
"Our classes are what we call 'A synchronic' which means everybody is in the class at the same time but everybody doesn't need to show up at the same time to work together," Miller said. "That's what makes it most convenient."