Varsity volleyball wins against Ritenour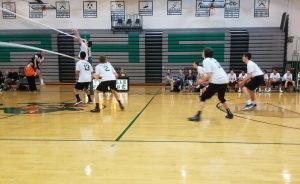 Rivalry games are fun. They are circled on the calendar. They are looked forward to. And they are competitive.
On March 19, the varsity boys' volleyball team had a game against rival Ritenour and defeated the Huskies 2-0 (25-14, 25-12).
As the boys were warming up, you could tell they were ready to play and get a win over Ritenour. The boys had great hits that were very intimidating.
Before the game started, the starting line-ups for Ritenour and your very own Pattonville Pirates were announced.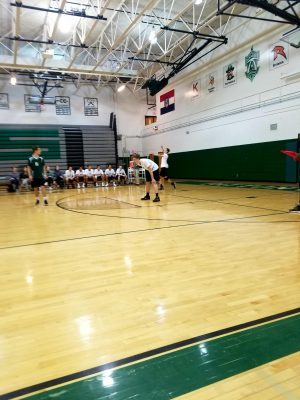 Most of the starters were seniors and juniors, and there were a couple of sophomores, but the big surprise starter was Pirates freshman Cole Schuler.
He started as the middle and had a fantastic game with good passing and hitting.
"I'm very grateful to get the opportunity to start."
When the boys played, it was a quick and beautiful game of volleyball. The Pirates won the first two games and showed great teamwork with good passing and communication on the court.
The style of play was much better than their first game against Parkway South.
"We learned a lot from our first game and it helped us with our communication and bond as a team," Schuler said.