Ms. Twila Harris is this week's Pirate Code Staff Winner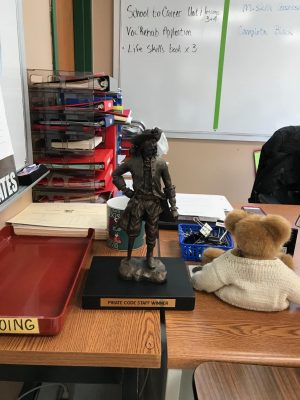 As another week comes around, another Pirate Code Staff winner is chosen. For the week of April 30- May 4, Ms. Twila Harris, the high school Child Development teacher, is the Pirate Code Staff Winner of the Week.
"Honestly, I am in shock," Harris said. "I had no idea I would be picked as the Pirate Code Staff Winner. It's a great surprise and a great honor."
Harris deals not only with high school students, but also with tiny 3- to 5-year-olds.
"Kaitlyn [Kelly] went beyond the call of duty to earn a Pirate Code ticket from me," she said. "Kaitlyn offered to take the beloved playschool turtle of over 12 years home with her during Spring Break."
Kaitlyn Kelly (11) made sure Mr. T was fed, given water, and was able to get out of the cage and move around each day.
"This turtle means the world to the preschool kids that come to playschool," Harris said. "I appreciate Kaitlyn so much going above and beyond caring for our turtle."
Every week, a different Pirate Code Staff Member of the Week will be selected from Pirate Code tickets that students have turned in.
Remember the Pirate Code. Be Respectful. Be Responsible. Be Involved.