Harris is this week's Pirate Code Staff Winner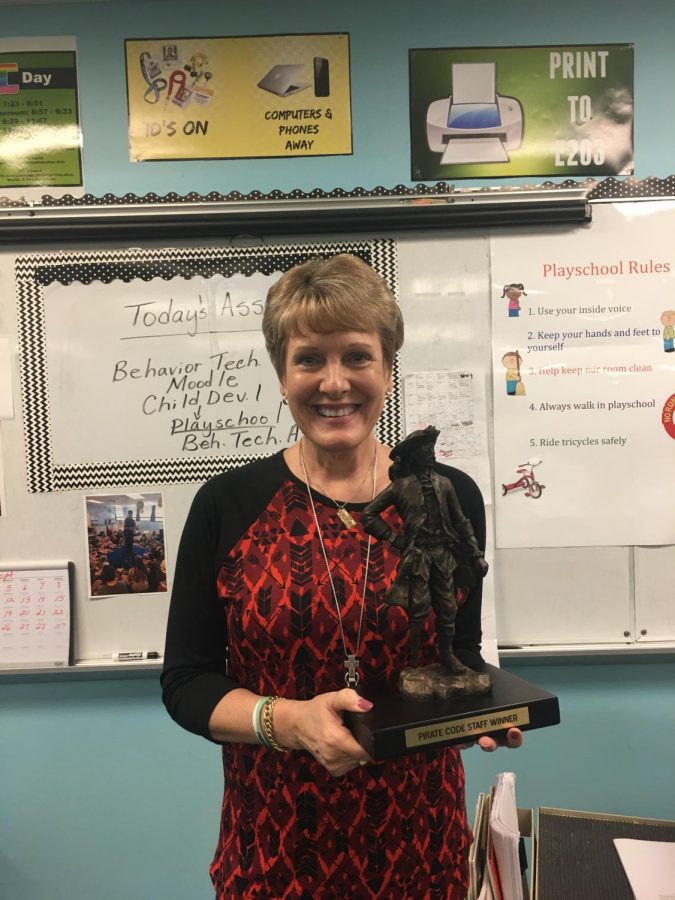 This week, Family and Consumer Science teacher Ms. Twila Harris was named the Pirate Code Staff Winner. She gave the winning Pirate Code ticket to sophomore Kurt Laurent.
Harris was extremely surprised after getting this long-awaited award.
"I was recently talking to a teacher about winning Pirate Code," she said. 
Not only does it feel good for her to win, but she said she's glad that other students can get the recognition they deserve for going above and beyond with no expectations of recognition.
"It's the little things that mean a lot to me."
Small things like helping out in the play school, vacuuming without being asked, and helping out other students make her look at certain students with respect and admiration. 
With Pattonville being such a large school, it's important to her that student's do helpful things with little to no directional instruction. These are the type of people Harris looks out for when she's giving out Pirate Code tickets.
"I look for people who go beyond duty with small, random acts of kindness," she said. "It means a lot." 
After students are caught being a Pirate and doing the right thing, they can receive a Pirate Code ticket from a faculty or staff member. After putting their ticket in one of the Pirate Code boxes around school, a winner is picked every Friday.
Every week, a different Pirate Code Staff Member of the Week will be selected from the Pirate Code tickets that students have turned in.
Remember the Pirate Code. Be Respectful. Be Responsible. Be Involved.