Pirates football brings back the hard hat for last regular season game
Last Friday, the boys of Pirate football earned the title of Conference Champions once again. Last year, the Pirates claimed the top prize while featuring a hard hat on the sidelines that was passed around players when they forced a turnover. The trophy – and the hard hat – was brought back to Pattonville in last week's game against rival school, Ritenour.
Their 34-7 win against Ritenour ended their regular season with a record of 7-2. The Pirates now move into playoff play as the No. 3 seed in the Class 6 District 1 football tournament.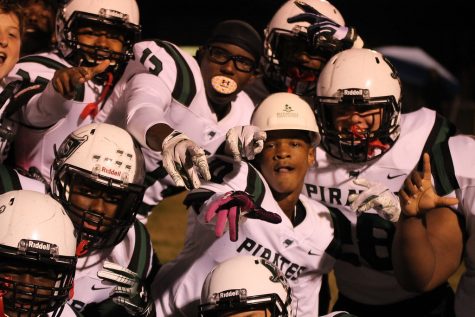 The first quarter was dominated by the Pirates, marked by a 55-yard touchdown run by Sam Sanderson, the Offensive Player of the Year for the Suburban XII South Division Conference. During the second quarter, Newcomer of the Year quarterback Andre Webb threw a 20-yard touchdown pass to Vicario Upchurch. Ritenour responded with a 37-yard touchdown run.
The first half ended with a buzzer beater touchdown pass between the Webb twins. The third quarter only featured scoring by the Pirates: Another run by Sanderson and a reception by Reggie Oliphant.
However, it was the Pirate's defense which highlighted Friday night's game. Junior Ricky Brooks managed to obtain two interceptions.
"It felt good because I knew I had my team and coaches behind me."
Also obtaining an interception was senior Reggie Oliphant, who returned his for a 26-yard gain. Leading in defensive statistics was Donovan Prott. Prott totaled 12 tackles, 1 for a loss and 11 solo.
Along with a string of kicks, even sophomore Jake Vitale managed to land on top of a fumble after his kickoff.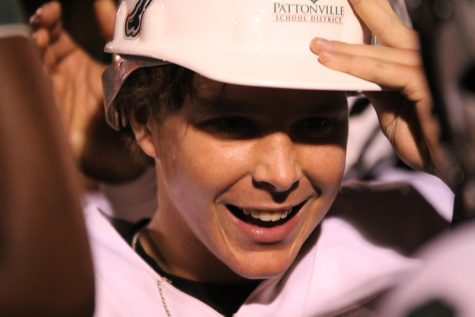 "It was an honor to wear the hard hat, especially against a rival and on their senior night."
This Friday, Pattonville (7-2) will take on their first playoff opponent in Marquette (6-3) at 7 p.m. at Pattonville's stadium.