Pirate Pete's Closet offers students free clothing
Students have a free alternative to Goodwill located right inside the high school.
"Two years ago, Ms. Odetta Smith spearheaded a project called 'Play It Forward,'" Ms. Lynn Wynen-Chamberlain said. "Mr. Givens' and my Homeroom classes decided that we would do a Goodwill-type of program called Pirate Pete's closet."
The rest is history.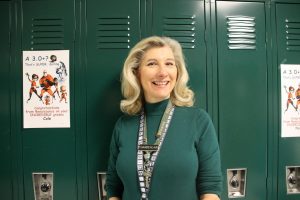 Not long ago, Wynen-Chamberlain started this project and it's only becoming better from here. Now sponsored by the Community Service Club, Pirate Pete's Closet is intended to help students that need clothes and other items for special events.
"Around Prom time, we have dresses where girls can go and get one," Chamberlain said.
To keep track of items and to see how many items are taken each day, Pete's Closet has a paper where students write down how many items they've taken.
"On average, about three to four items are taken a day," she said. 
Pete's Closet positively impacts many people.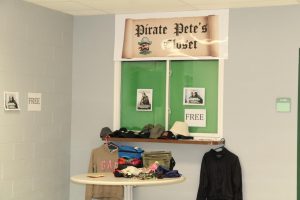 "One homeless student came and got her whole summer wardrobe, along with lots of personal hygiene products."
Wynen-Chamberlain also puts her own time into Pete's Closet by going to special sales at second-hand stores to buy items for Pete's Closet.
Others are contributing their time too. Industrial tech teacher Mr. Darrell Langston and junior Connor Hughes are building a more structural closet for items in Pete's Closet.
"[Hughes] is doing this for his Eagle Scout project," Wynen-Chamberlain said.
Pete's Closet seems to only be improving by expanding its offerings and becoming more efficient. Chamberlain spoke about making the closet better organized by sizes soon.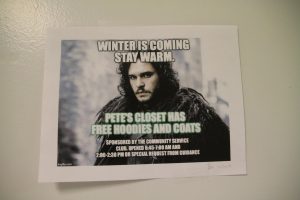 Pete's Closet has helped improve the lives of others, and will to continue to do so with its location near Gallery G and the SRO office.