Girls' basketball remains undefeated behind Danfort's 24 points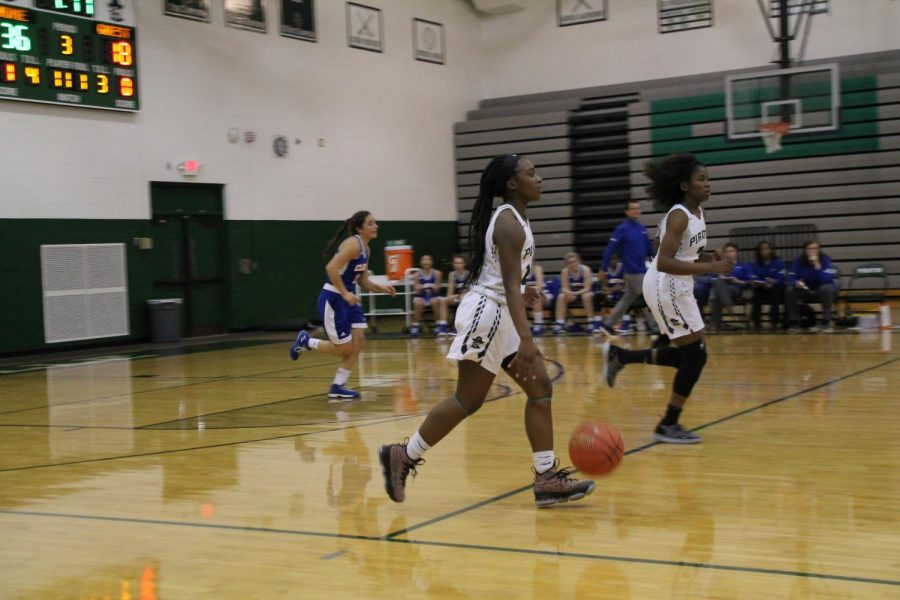 December 13, 2018|73 Views
Pattonville's girls' basketball has been on a roll this year dominating on the court at home and away. They just recently beat Fort Zumwalt North (5-1) 55-47 and will play Lutheran St. Charles (7-1) in the Fort Zumwalt North Invitational Tournament Championship on Saturday, Dec. 15, at 3 p.m.
The Pirates were led by senior guard Niya Danfort who scored a season-high 24 points. Kendall Battle notched in 14 points and Brooke Jenkins and Kaeli Benedict added 8 points each.
Fort Zumwalt North was down 29-18 at the end of the first half but were able to make a run in the 3rd quarter to cut the lead down to 8 points.
Dajah Robinson for the Panthers scored 17 points for the team-high and Jaden Stahl was able to knock down 3 shots and 6 free throws to add 12 points to their total.
It just wasn't enough for the Panther girls to come back and win. The Panthers will play Fort Zumwalt East (5-2) on Dec. 15 for third place in the FZN Invitational Tournament.
The girls team has been phenomenal on the offensive side and defensive side not allowing a team to score over 50 points this season.
The Pirate girls (5-0) remain undefeated this season.
They conclude the Fort Zumwalt North Tournament on Saturday playing in the championship game and then participate in the MICDS Tournament (Dec. 17-28) and Westminster Girls Varsity New Year Tournament (Jan. 3-5).
Pattonville will finally play Hazelwood West on Jan. 9 before taking on Parkway North at home on Jan. 15.
Boxscore provided by STLhighschoolSPORTS.com
Fort Zumwalt North offensive statistics
| | | | | | | | | | |
| --- | --- | --- | --- | --- | --- | --- | --- | --- | --- |
| Totals | 47 | 15-0 | – | 13-0 | – | 2-0 | – | 15-34 | 44.1 |
Pattonville offensive statistics
| | | | | | | | | | |
| --- | --- | --- | --- | --- | --- | --- | --- | --- | --- |
| Totals | 55 | 17-0 | – | 14-0 | – | 3-0 | – | 18-33 | 54.5 |