Pattonville boys' basketball wins away from home
Pattonville boys' varsity basketball has won four games in a row and has improved to 5-9 on the season after a 48-46 win against Hazelwood West.
The Pirates started the season losing six games in a row until they got their first win against Warrenton in the GAC/Suburban Challenge.
On Wednesday night, the Pirates played an away game against Hazelwood West (6-6) beating them 48-46.
With the changing of the calendar year, the Pirates look like a new team as they are undefeated in 2019 and are on a roll to keep improving.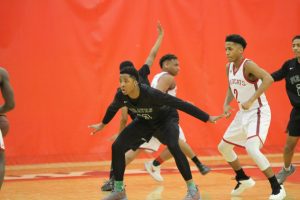 Pattonville was lead by leading scorer Julius Erby who locked in 16 points in the win.
Head coach Kelly Thames said Erby is doing fine after coming back from an ACL injury last season.
"Julius is just now getting his legs back in shape," Thames said. "He's having fun out there and that's the most important thing."
Guards Kellan Thames scored 12 points and Alijah Carter scored 9.
The Wildcats played a great game and led the Pirates 13-8 after the 1st quarter, but Pattonville took a 28-25 lead into halftime after outscoring Hazelwood West 20-12 in the 2nd quarter.
Brian Grey was the Wildcats' leading scorer having 14 points on the night but he fouled out of the game hurting the team in the long-run. Senior guard Marvin Wilson clocked in 11 points and point guard Casey Jones Jr. had 9 points.
Stats Provided by StlhighschoolSPORTS.com 
| | 1 | 2 | 3 | 4 | Final |
| --- | --- | --- | --- | --- | --- |
| Pattonville | 8 | 20 | 8 | 12 | 48 |
| Hazelwood West | 13 | 12 | 6 | 15 | 46 |
| Pattonville | Pts | FG | 3FG | FT | FL |
| --- | --- | --- | --- | --- | --- |
| Julius Erby (#13, 6-4, F, Sr.) | 16 | 5 | 1 | 3-4 | 1 |
| Kellen Thames (6-0, G, Fr.) | 12 | 3 | 2 | 0 | 0 |
| Alijah Carter (#5, 6-2, G, So.) | 9 | 2 | 1 | 2-4 | 4 |
| Monte Henderson (#20, 6-0, G, Jr.) | 7 | 2 | 0 | 3-5 | 1 |
| Andre Webb (#12, 5-10, G, Sr.) | 2 | 1 | 0 | 0-1 | 0 |
| Cory Stringer (#11, 5-8, G, Sr.) | 2 | 0 | 0 | 2-2 | 2 |
| Hazelwood West | Pts | FG | 3FG | FT | FL |
| --- | --- | --- | --- | --- | --- |
| Brian Gray (#11, 6-7, F, Sr.) | 14 | 6-9 | 0 | 2-2 | 5 |
| Marvin Wilson (#2, 6-0, G, Sr.) | 11 | 4-5 | 0-3 | 3-4 | 0 |
| Casey Jones Jr. (#1, 5-7, PG, Jr.) | 9 | 2-3 | 0-3 | 5-6 | 1 |
| Darius Cooper (#5, 6-2, G, Jr.) | 6 | 3-7 | 0 | 0 | 3 |
| Tavion Dilworth (#35, 6-1, F, Sr.) | 2 | 1-1 | 0 | 0-1 | 1 |
| Lester Sykes III (#20, 5-11, G, So.) | 2 | 1-2 | 0-1 | 0 | 0 |
| Armon Thornton (5-11, PG, Jr.) | 2 | 1-2 | 0 | 0 | 0 |