Boys' basketball loses its final regular season game, focus turns to postseason play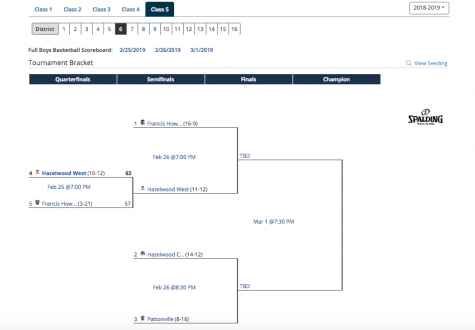 Pattonville boys' basketball lost against McCluer North (23-3) in a one-sided battle at home on Feb. 21, 77-59.
Now the No. 3-seeded Pirates turn their attention to the Class 5 District 6 postseason tournament.
Pattonville (8-16) will play No. 2 Hazelwood Central (14-12) at 8:30 p.m. on Tuesday at Francis Howell Central.
The winner will advance to play the victor of No. 1 Francis Howell Central (16-9) and No. 4 Hazelwood West (11-12)
Pattonville lost six straight games to end the regular season with an 8-16 record.
The Pirates were down the entire game only chipping away at the Stars' lead a little at a time. At one point in the third quarter, the Pirates were able to make it a game and trailed by just 2 points but that momentum didn't last long and McCluer North was able to push ahead for good.
Pattonville's leading scorers were Julius Erby with 18 points and Levi Banks with 15. Erby was also able to collect 10 rebounds picking up another double-double this season.
Although it wasn't a good scoring night for Alijah Carter who had just 6 points after shooting 3-for-12, Carter was able to contribute for the Pirates by collecting 12 rebounds,  10 of which were on defense.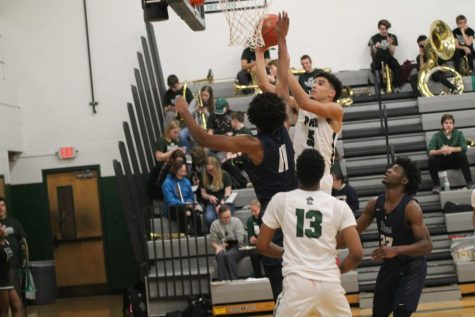 McCluer North was led by A'Tavian Butler with a game-high 25 points and Mekai Ray with 19 points. Patrick Evans for the Stars collected 10 rebounds to go along with 16 points for his second double-double this season.
Stats provided by StlhighschoolSPORTS.com 
McCluer North offensive statistics
| | | | | | | | | | |
| --- | --- | --- | --- | --- | --- | --- | --- | --- | --- |
| Totals | 77 | 35-59 | 59.3 | 31-45 | 68.9 | 4-14 | 28.6 | 3-9 | 33.3 |
Pattonville offensive statistics
| | | | | | | | | | |
| --- | --- | --- | --- | --- | --- | --- | --- | --- | --- |
| Totals | 59 | 23-65 | 35.4 | 17-47 | 36.2 | 6-18 | 33.3 | 7-11 | 63.6 |