Voting for Prom Court is now open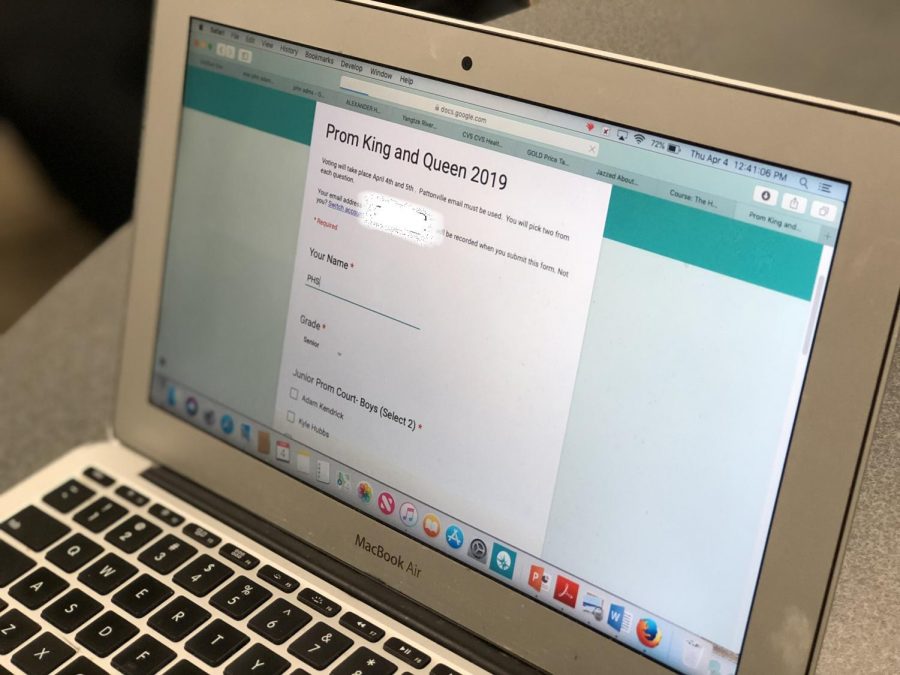 "I'm on it?" said the startled senior Isaiah Wilkes when he found out he was nominated for the 2019 Prom Court.
Prom court voting is taking place April 4-5 on the Moodle under the HotSpot. Students must be signed into their Pattonville Gmail account in order to vote.
As the month of April opens, Pattonville High School students begin to think about the big dance. Several students are also thinking about the chance to be on the Prom court and the opportunity to be named the 2019 king or queen.
To be eligible for prom court at Pattonville, students are first nominated by the teachers rather than the students to create a non-popularity type event that has a non-bias vote. Each student must get three separate votes in order to be eligible for the court.
Then a student online vote is conducted to choose finalists and a potential winner.
Senior Meaghan Pace was excited to be nominated.
"I thought it was really cool because I've never been on it before and a lot of my friends are on the court this year so that should be a pretty cool experience," Pace said.
Wilkes was in shock, but he is excited about the opportunity.
"It made me feel good that my teachers gave me the opportunity to be on the prom court," Wilkes said. "I'm looking forward to eating the dinner at the dance more than anything else."
The dance will be held on May 3 at the Westport Sheraton and this year's theme is 'A Night in the Enchanted Forest.' Tickets go on sale April 5 and will be $65 until April 18. The price goes up to $70 if tickets are purchased April 22-26. Guest permission forms will be available March 11 through April 18.
Nominees for Prom Court
Senior Prom Court- Boys (Select 2)

*
Will Polster
Jacob Wilfong
TJ Henderson
TJ Simer
Mason Murphy
Isaiah Wilkes
Alex Newett
Alexander Perez
Marius Ignat
Sam Sanderson
Jefferson Lopez
Amish Sharma
Senior Prom Court- Girls (Select 2)

*
Makayla Harden
Aliza Ahmed
Hannah Schamber
Marissa Ruggiero
Leslie Azwell
Laura Harder
Kendall Battle
Bianca Johnson
Lauren Brewer
Kesley Kobielusz
Da'Viona Bonner
Meaghan Pace
Trinity Wessler
Junior Prom Court- Boys (Select 2)

*
Adam Kendrick
Kyle Hubbs
Jack Goetz
Thomas McFarland
Rodney Wallace
Terrell Sanderson
Harith Al Yuwaili
Gabe Furr
Daniel Risher
Junior Prom Court- Girls (Select 2)

*
Nicole McDaniel
Kathryn Wentz
Erika Sanchez
Sofia Serra
Hannah Rodgers
Keeley Peters
Momo Kikuchi
Emily Schrumpf
Aisha Alvi
Claire Willhite