Undecided on Decision Day: Meaghan Pace's story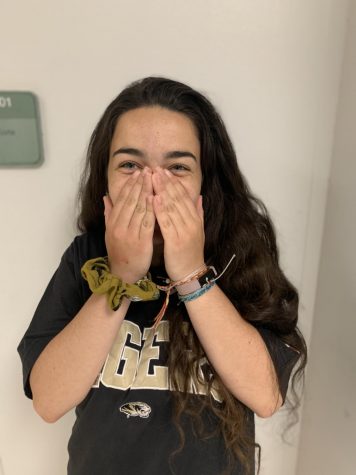 On May 1, seniors all around the country celebrated their plans for after high school on National College Decision Day. Not only is this day celebrated in high schools, colleges use it as their deadline to confirm students admission for enrollment.
While everyone at Pattonville was celebrating their choices by pinning their Pirate on the map and taking celebratory pictures with props in the photo booth during lunch, one senior was trying to fly under the radar. Meaghan Pace tried to keep her "decision" a secret, but when she let it slip that she was undecided on decision day, she got called crazy and insane.
"Today, I wore a MIZZOU shirt so no one would ask what I'm doing because I don't want people to bother me," she said. "I wasn't worried about coming to school, but lunch was scary."
Not only was lunch a scary time, she also feels the burden of her current predicament.
"It's kinda scary. It kinda makes me want to cry."
Don't be too worried for her. Although she doesn't know where she wants to go next year, she has an idea of a plan.
"I want to be a paramedic, so I'm trying to figure it out," she said, "but I don't really know what I'm trying to figure out."
Pace has even narrowed her college options to two schools.
"STLCC has a paramedic program and I have the A+ School Program, but I want to go to MiZZOU and get a degree," she said. "I don't know what I want to major in because to move up, you need a degree, and I want to be a firefighter."
Pace said her decision has been so hard because she's "really indecisive." She still has no clue when she'll make her decision, but she has great advise for underclassmen.
"Do your research. Figure out what you want to do because you don't want to be indecisive and not have anywhere to go on Decision Day."