Boys volleyball advances to the first Final Four in program history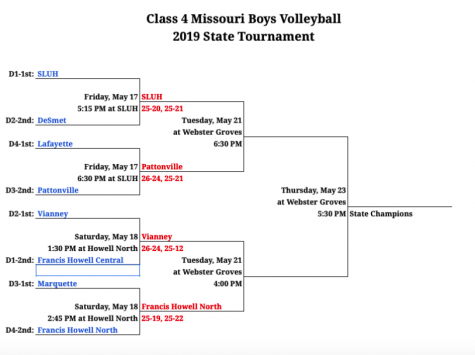 For the first time in program history, the boys volleyball team will be competing in the semifinals at the state tournament.
Pattonville defeated Lafayette in straight sets on Friday, May 17, in the opening round of the Class 4 state tournament.
They now play the defending state champions, SLUH, in the semifinal round. That game will be May 21 at Webster Groves at 6:30 p.m.
Boys volleyball hosted the Class 4 District 3 tournament and after beating Northwest in the second round, they lost the championship match to Marquette.
However, the Pirates were still able to move on in postseason play as both the 1st and 2nd place teams in the District tournament advance in the playoffs and the championship game is used for seeding purposes.
By finishing second, Pattonville faced the winner of the Class 4 District 4 tournament and bounced back in order to take the win.
Senior Will Polster gave his opinion about the team's performance in the District tournament.
"I feel we played really well the first game, but to sit after that first game for hours really took a toll on our energy," he said. "I feel we could have been a lot better against Marquette on our home court, but that's really behind us so now."
Senior Trevor Vigus is already looking forward to their next opponent.
"We need to make sure we are playing as a team and working hard on every single play and detail for this next tournament," he said. "Most importantly, we need to have fun because that's when we do our best."
The state championship will be played on Wednesday, May 23, at Webster Groves. The game between the winner of SLUH-Pattonville and Vianney-Francis Howell North will be played at 5:30 p.m.