New Members "Tapped" into National Honor Society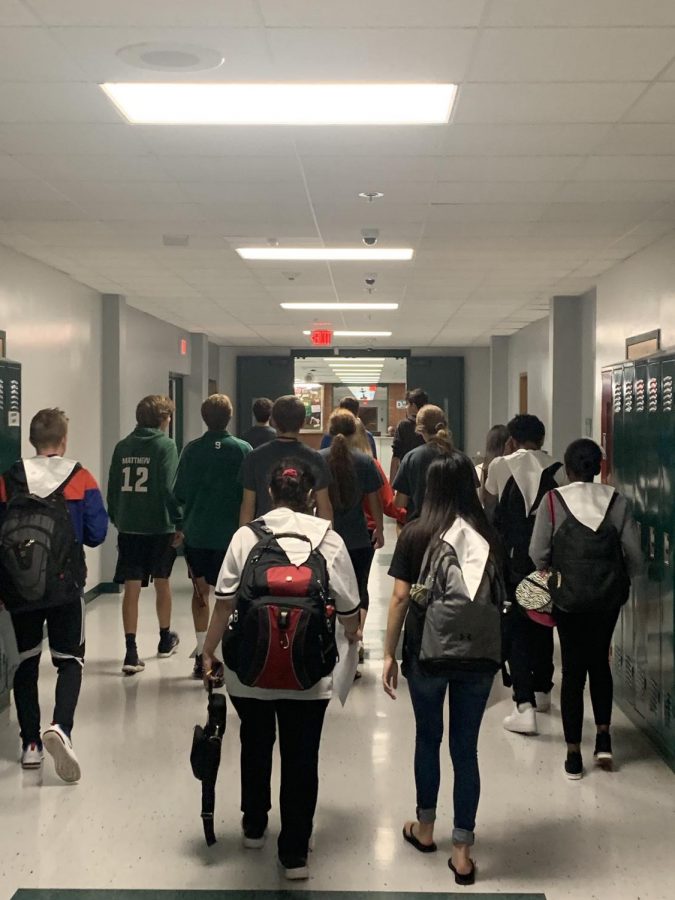 In first hour today, students who applied for National Honors Society found out if they made it or not. In order to get in, students had to earn a 3.5 GPA, complete 25 hours of community service, and be involved in activities and/or a job.
37 students were selected to join. Students already in National Honors Society came together and rounded up students classroom by classroom, placing a stole on each new member.
Students wear these stoles during graduation, along with any other honor cords or stoles to commemorate their high school accomplishments.
After existing members rounded up new members, students headed to the auditorium to discuss upcoming meetings along with the official induction ceremony. President Momo Kikuchi led the meeting while Mr. Breuckmann greeted the new members, who were congratulated on their good news.
This process is called "tapping."  "I like that tapping is different. I wish I didn't have to wear my stole all day, but it's very cool!" says new member Katherine Cullinane. Students keep their stole on all day so that they are recognized as honors students by staff and other students.
The new members are Kaeli Benedict, Autumn Blue, Maya Blumenthal, Jailah Broadway, Aaron Caldwell, Somlinh Chittakhone, Katherine Cullinane, Anna De Garcia, Alex Djetto, Alisa Durham, Becky Giang, Mya Harris, Lily Holland, Linda Lam, Jordyn Lodes, Emily Lu, Rachel Luebbers, Maria Madden, McKenzie Massey, Samuel Mathis, Lydia McCullough, Bridget Mwaniki, Grace Ohlsen, Jas Rai, Hannah Rodgers, Noura Sarrar, Gabi Shipman, Haley Sparacio, Kate Teku, Christopher Tobar, Isabella Tucci, Bryce Viehmann, Brianna Voss, MacKenzie Voss, Britney Wallace, Imani Warren, and Griffin Wick.