"Anything Can Happen" for this Year's Boys Varsity Soccer Team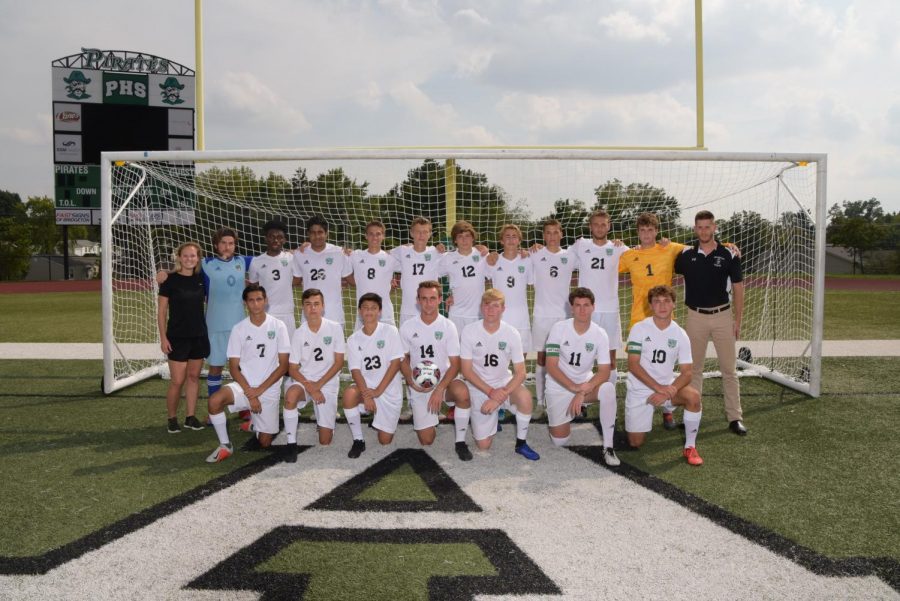 Drake Seabaugh and Nolan Ballard, Staff Writers
November 1, 2019
No Pattonville boys' varsity soccer team has made it past sectionals. With a record of 13-7, Coach Marcus Christian's ultimate goal is to "compete well at districts. Everything past [districts] … will be hard." Christian thinks that for sectionals, "a lot of your ability is who you play …. We got to play our best game, we'll have to steal a goal." For him, "draw determines the difficulty. We got a bad draw." If Pattonville were to win districts, the third time in four years, they would have to play one of the following at sectionals: De Smet (11-4-1), Chaminade (12-10), St. Louis University Highschool (16-6-1), or Ritenour(8-15).
Each player on the team "has a role, we don't keep a lot of guys on our roster. Each [player] fulfils a specific need," Christian said. Whenever the team has lost this season, they rebound with a "film sessions and identify were [they] fell short." This method has proven to be effective for them as they have only lost back to back games just once this season. Those games were against Westminster Christian Academy (14-7) and Lafayette (16-6-1); both of which were by one goal. Nick Derleth, senior midfielder, thinks that in order to make it past sectionals they'll need to "work as a team, play hard, and keep talking" on the field. In some situations Pattonville will be the underdog, however, "Anything can happen and if the conditions are right," Pattonville can beat anyone. 
Within their conference games, the soccer team's record is closest to Clayton High School's record, who leads by one game and is in first place. Pattonville players are in second, and some have the goal of playing beyond high school. One such soccer player for PHS, Thomas McFarland, said that "It would be really cool to go to college and play soccer there." 
The team was strong during districts last year, and with 13 seniors on the roster, they hope to continue to progress. McFarland said that he is "really proud of the team's effort." The soccer players are constantly trying to see what they can improve, or fix, on the field to play their best during the game. Hopefully, it will pay off at the next level.
Districts will be held on November 4 at Pattonville at 4pm against McCluer North (6-10). Come out and support the boys' soccer team in their attempt to make school history.